This week marked the 8th annual Pink Shirt Day and I am proud to have been able to mark it in a really meaningful way. I spent the morning with the students, teachers and parents at Montcrest School in Toronto as part of their first ever Pink Shirt Day celebration.
Pink Shirt Day is honoured in 25 countries and thousands of schools and business come together to say "no" to bullying. The origin of Pink Shirt Day goes back to 2007 in Halifax, Nova Scotia when a grade 9 student was bullied for wearing a pink shirt on his first day of school.  When two grade 12 students, Travis and DJ, witnessed what was going on, they wanted to do something about it. They figured that if everyone was wearing pink, the bullies would be outnumbered and the boy wouldn't be singled out. Their hunch was right and Pink Shirt Day honours what happened that day. [For the full story about the original Pink Shirt Day, please read my post here]. Pink Shirt Day is a day we come together, creating a sea of pink. It empowers us to stand up against bullying because we do it together.
I was really excited to be part of a Pink Shirt Day celebration that was months in the making and involved every part of the school community. If you didn't know that it was Pink Shirt Day that day, when you drove up to the school, you definitely did and it was most definitely a "sea of pink". There was pink fabric woven through the fences and hung on the trees in the playground, pink signs with words of positivity were everywhere and every student, teacher and parent was wearing pink. The shirts were all handed out first thing in the morning and it was the first time that the students got to see them and it was so special because they all had input. Every class was asked to submit words that described what Pink Shirt Day meant to them and the design on the shirts was a word cloud based on those words – Empathy, Kindness, Compassion and Courage, to name a few.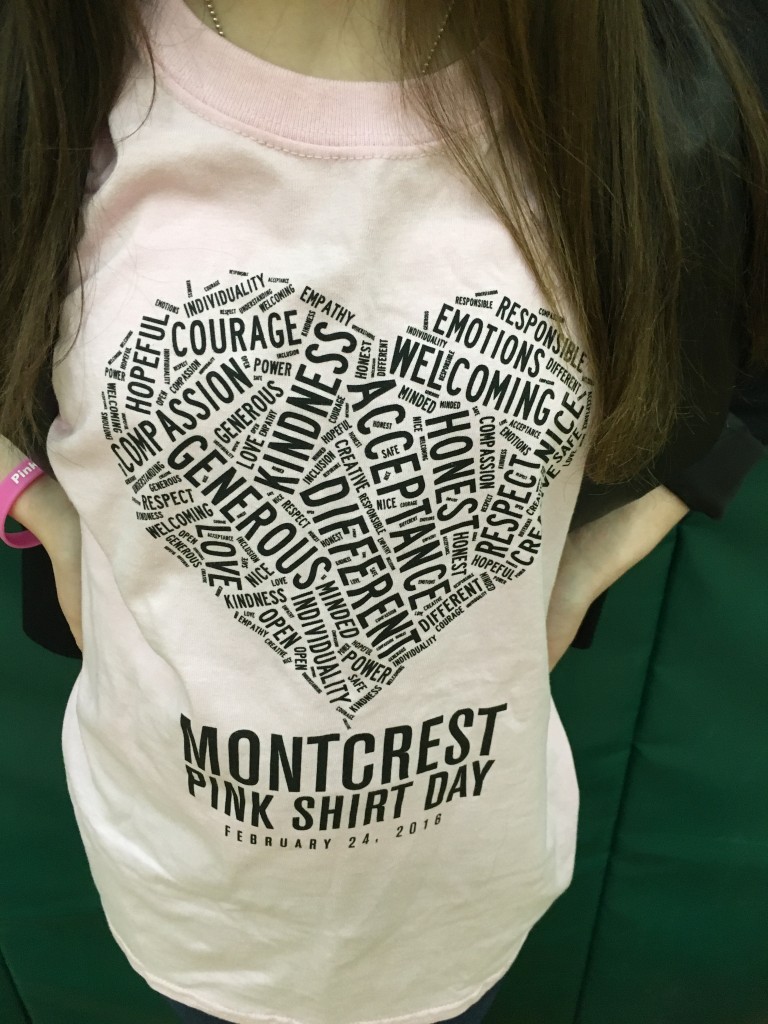 In my keynote presentation I share the stories of some of the people that have inspired my own journey as a change-maker and Travis Price, the Founder of Pink Shirt Day, is one of those stories.  That day, it was particularly special because everyone there really was creating that sea of pink that I talk about and they knew how important it was. As I started to tell the story of Pink Shirt Day, the energy in the room changed. One little boy sitting in the front row looked at me and said, "I know this story!" It was perfect.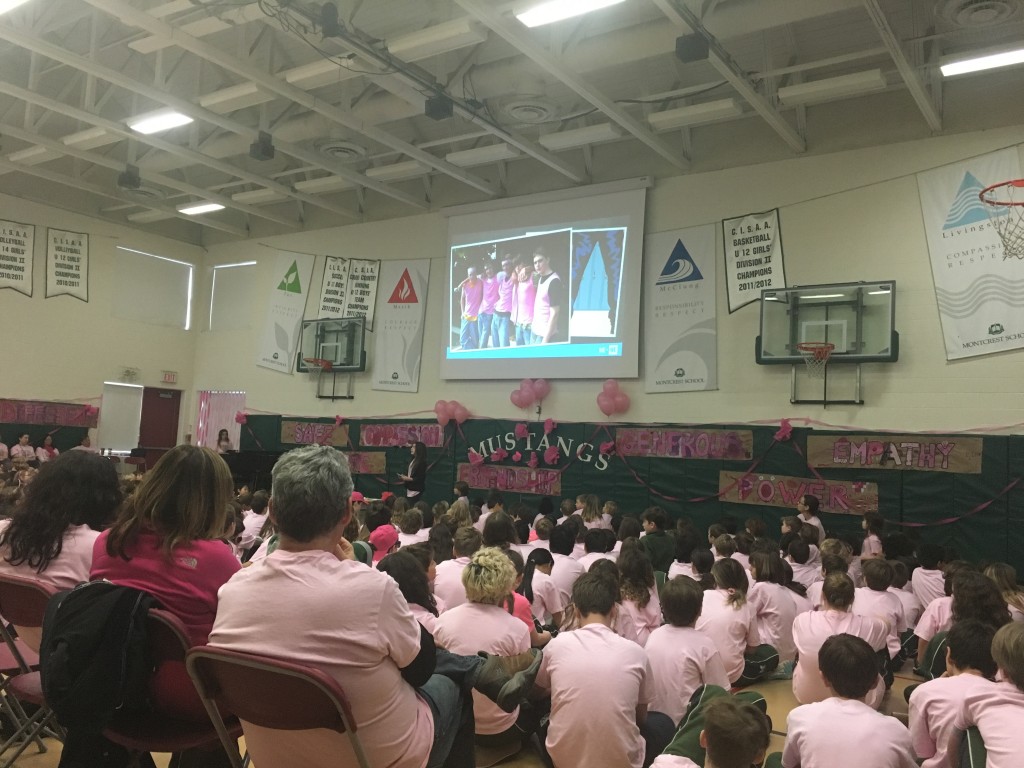 One of my favourite parts of the day happened just after my presentation – Tanabatas. I had never heard of this before and was excited to learn about this really interesting custom that was adopted for Pink Shirt Day. It is a tradition from Japan and the Tanabata, or star, festival which takes place in July. As part of the celebration, people write wishes on Tanzaku – colourful strips of paper and hang them on bamboo trees. Montcrest adopted this for Pink Shirt Day with their own special twist. The students got pink strips of paper and they wrote a wish for Pink Shirt Day and their wishes were hung all over the school for all to see and be inspired. This school had some good vibes and you could really feel the positive energy in the room.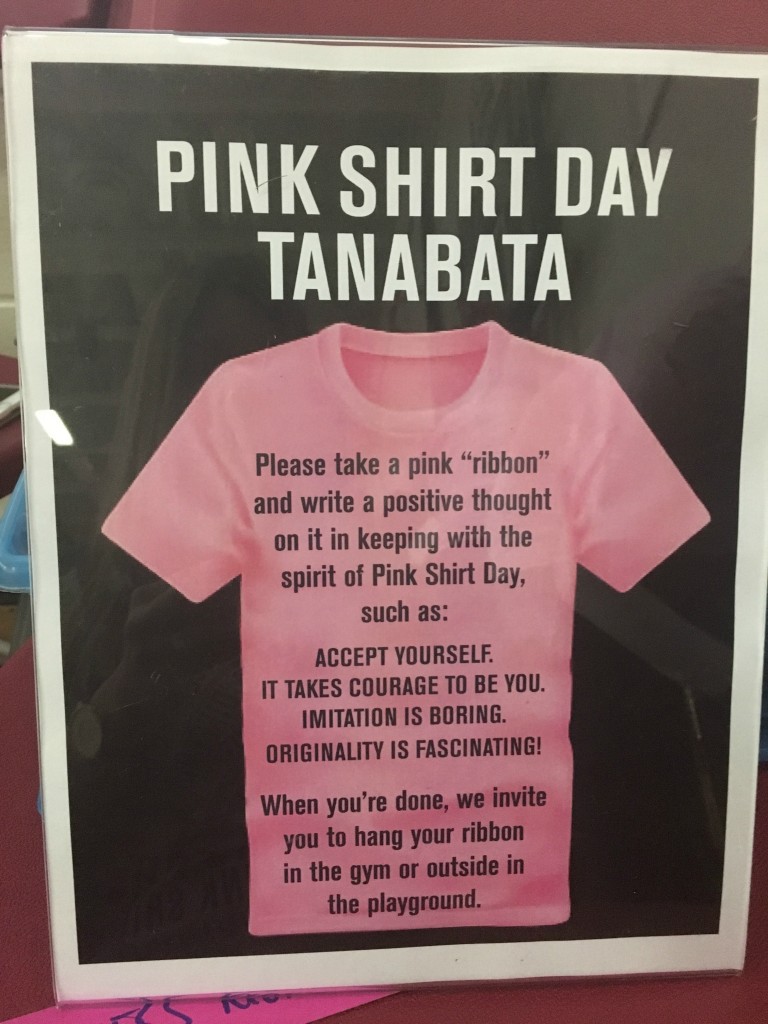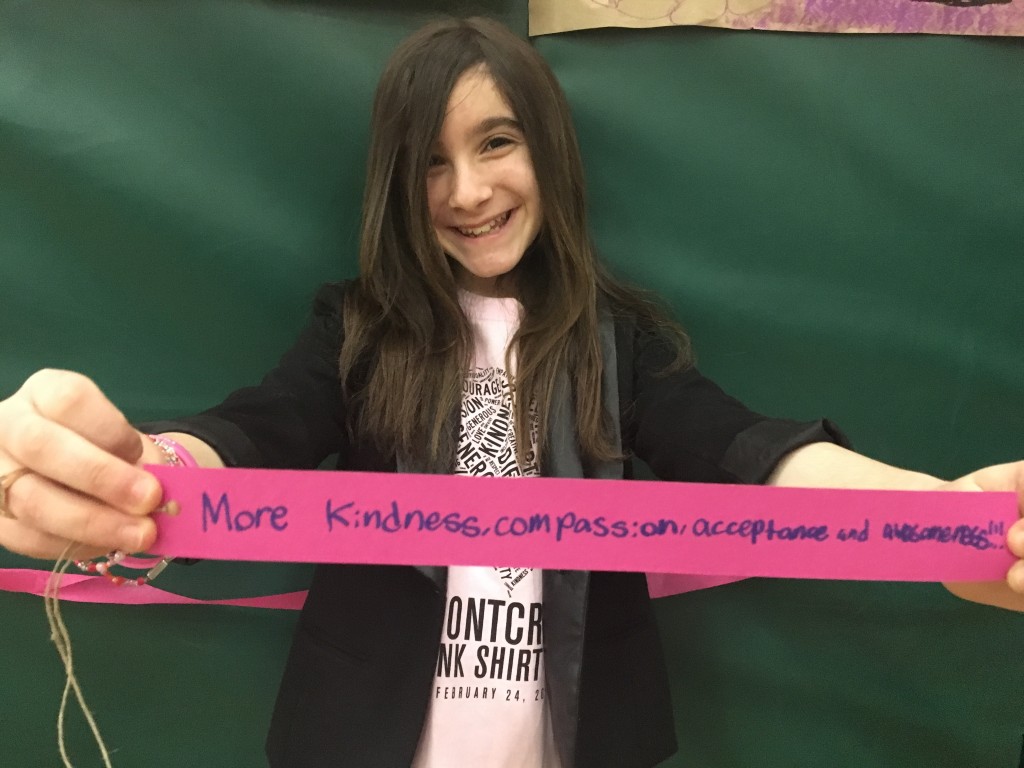 Throughout the day, I checked in on social media to see what was going on around the country. On Twitter looking  I saw something pretty cool – Prime Minister Justin Trudeau posted a video, wearing the official Pink Shirt Day shirt while he expressed why Pink Shirt Day is important to him and to Canadians.
On Pink Shirt Day, we stand up to bullying and vow to spread kindness. Please RT and tag a friend to #PinkItForward:https://t.co/QS7fahq8jx

— Justin Trudeau (@JustinTrudeau) February 24, 2016
Pink Shirt Day is about more than a day. It is a day that inspires us to #PinkItForward so that the feelings and actions of coming together in kindness, empathy and compassion carry us through the days, weeks and months ahead. The effects of bullying are deep, powerful and long-lasting. I hope that the impact of Pink Shirt Day will be the same so that we see more kindness and togetherness and less bullying and exclusion. With that spirit in mind, I want to wrap up with this statistic and hope that with the support that Pink Shirt Day inspires, there will more upstanders among us.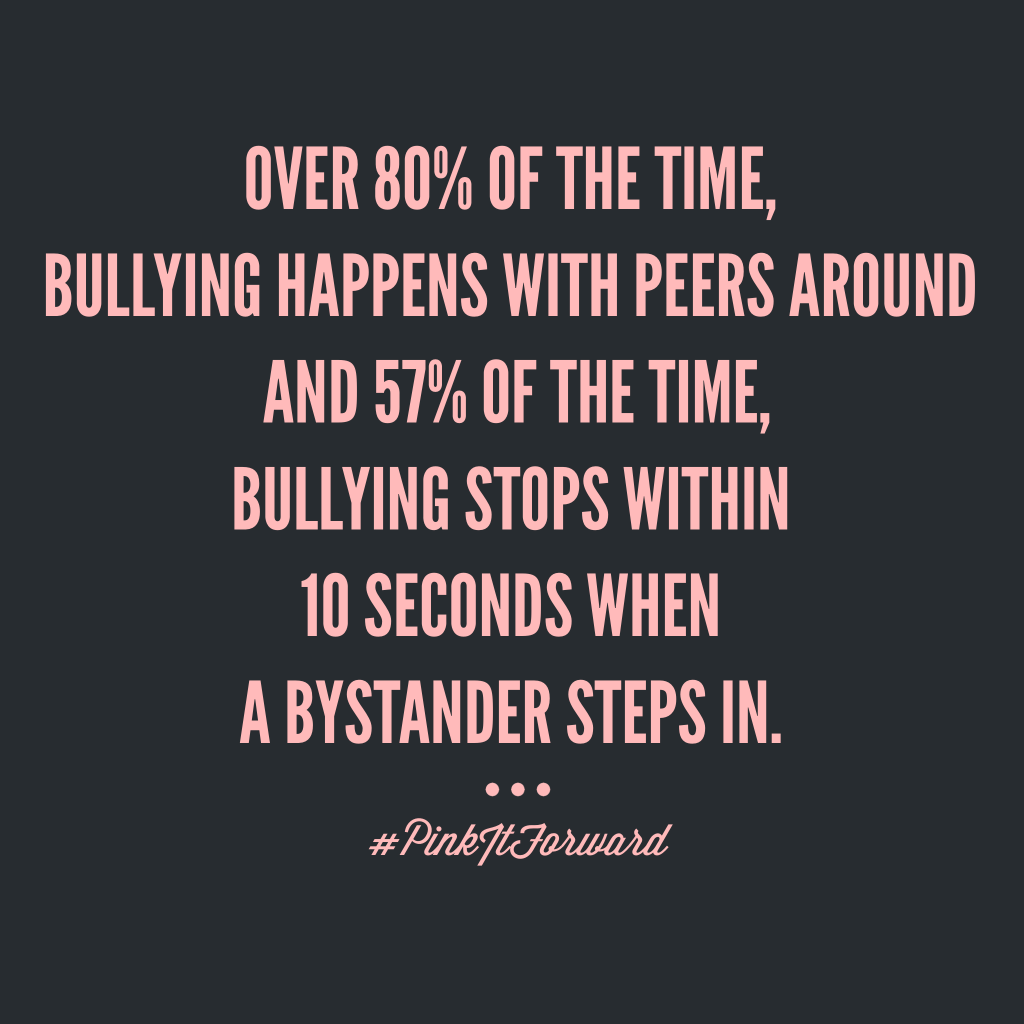 I'd love to know what you did for Pink Shirt Day. Let me know in the comments.