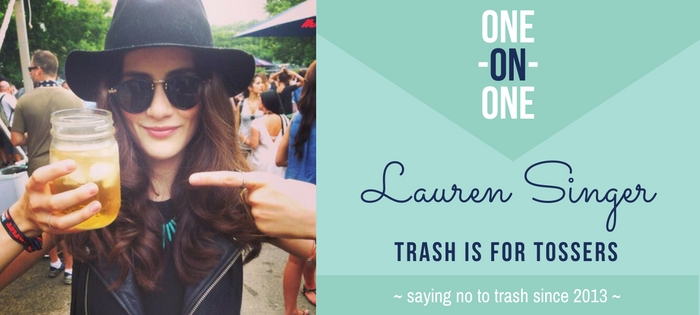 All the time, I talk about how when we are one person making a difference, it might not seem like we can make an impact, but that one person can inspire more people to make a difference. The actions that we all take add up. Simple math. Lauren Singer is a prime example of that. She made what some might say are some pretty extreme changes to her lifestyle to better the environment and then worked towards inspiring people to take actions, big or small, that will make an impact.
In 2013, Lauren made a conscious decision to live a zero waste life in New York City. She has been living a trash free, waste free, sustainable lifestyle. When Lauren talks about zero waste, she really means it. She does not produce any garbage – she send nothing to the landfill, she doesn't throw anything in the trash can. Nothing.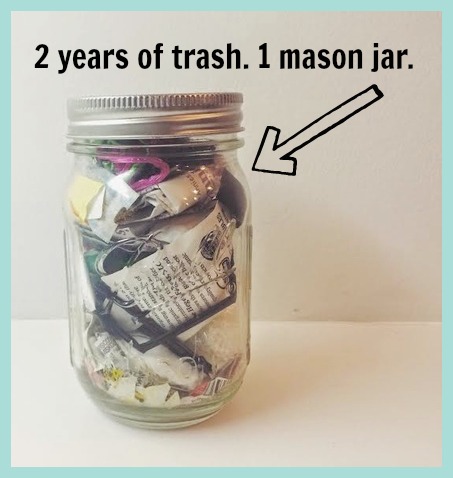 She shares how she lives zero waste through her Instagram page, @TrashIsForTossers, and her blog, trashisfortossers.com. When Lauren saw that what she was doing was gaining more and more attention, she founded The Simply Co., an online store with organic, vegan cleaning products. How awesome is Lauren?
I had the opportunity to talk to Lauren about how she keeps a waste free habit – and how easy it can be once you get started.
1. When and how did your cause and issue for the environment come to be?
When I was in college I was studying environmental science. I would go to Washington, DC to lobby, lead and attend protests, and constantly read and talk about environmental issues. But it wasn't until my senior year of college in my Environmental Studies Capstone course, the last course that you have to take as an Environmental Studies major, that I changed my ways. 
In this class there was a girl who, every day, would bring a plastic bag with a plastic clamshell full of food, a plastic fork and knife, a plastic bag of chips, and a plastic drink. She would finish everything and then throw all of the packaging in the trash. I remember thinking "what is this girl doing, we are Environmental Studies students and this girl is making SO MUCH TRASH". It really made me upset. 
One day after class I went home to make dinner and opened my fridge. For the first time in my life I realized that everything in there was packaged in plastic. It was like a smack in the face. I had been getting so upset at the girl in my class that was making so much garbage, but I had just as much, if not more, plastic trash of my own. 
I felt like such a hypocrite. 
It was in that moment that I decided to make a change and go plastic free. From there I learned about the Zero Waste movement and felt so incredibly empowered. To me, it was the first time that I felt like I wasn't just talking about issues and what I believed in, I was actually living my values. 

2. What you are doing is quite a hard thing. Not a lot of people just wake up and think, "I want to produce zero garbage anymore." When did you think and actually become serious about becoming Zero Waste and producing as little garbage as you can?
So often people think that living Zero Waste is hard, but in fact it couldn't be easier. To go Zero Waste all I had to do was, over time, take baby steps towards reducing my waste. Things like using a reusable bag instead of a plastic one, saying no to plastic straws, bringing a reusable coffee cup, learning to compost.
The steps are simple and I integrated them into my life one at a time to make the process as simple and rewarding as possible.
Collectively they resulted in living a trash free life. 

3. How did you decide that blogging about your Zero Waste lifestyle and selling eco-friendly products was the way that you wanted to inspire others to be inspired to not even not produce any waste, but something as simple as being aware or making your own eco-friendly cleaning supplies?
It was really not something I decided, but something that just sort of happened. I started living a Zero Waste lifestyle for me.
I wanted to align my day to day life with my values for environmental sustainability.
In the beginning I didn't tell anyone how I was living or what I was doing. But slowly, people started asking when they saw me drinking coffee out of a mason jar or carrying reusable bags. That is when I decided to start a blog to document my journey and make it easy for people to learn about what I was doing or even gain tips if they wanted to do the same thing. 
Starting my company happened pretty organically as well. I had been making my own products for years living a Zero Waste lifestyle. People would email me all the time saying they loved the products that I was making myself but wanted a place to buy the same quality products because they didn't feel like they had time to make them. When I started looking in stores I couldn't find any cleaning products that had the standards of the products that I was making myself and learned that in the US cleaning product manufacturers are not legally obligated to list their ingredients on the product packaging, and so we have no idea what is in what we are buying. I found this totally unfair. I want to know exactly what I am putting on my body and in my home. The next step just felt right, logical, and clear. I quit my job and launched The Simply Co. to make products that I feel we all deserve. That are organic, vegan, and safe for your body, your home, and the environment. 
4. What would you say are your top 3 favourite eco friendly products that you use for your everyday life? What are the top 3 things you use?
I love my mason jar, my reusable cloth product bags, my stainless steel containers to use to pack anything from a zero waste lunch to small sizes for my mini deodorants that I carry with me. 
5. I would love it if you could tell me about how you shop for food. How you buy food without any plastic packaging?
I shop for all of my fresh produce at the farmers market because it is local, organic, and comes free of produce stickers and plastic packaging. Also, I love supporting my local economy and local farmers. For other items I buy them in bulk (package free) from my local natural food store and I do that by bringing mason jars to fill up for wet items like honey or olive oil and cotton bags for items like sugar or rice.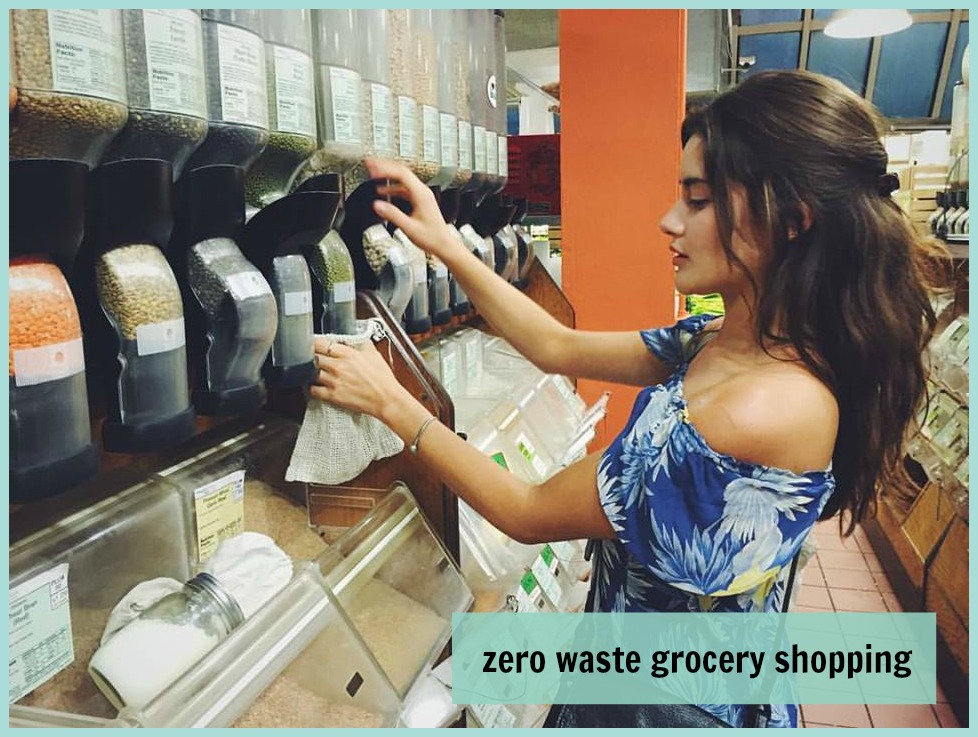 6. Who inspires you? Who is the person (or people) that have really supported you through the past two years and through your life?
I am inspired by anyone that looks at the world around them, sees something they don't like, and decides to do something about it. It is easy to complain about what we don't like, blame someone or something, and continue about our lives. It is another entirely to notice something and say, I believe we can do better, and then take action. Those are the people that inspire me and drive me forward. 
7. What is your message to people who want to make a difference but doesn't know how?
Any step forward is a step forward and the best place to start is to start.
I used to blame the world around me for the problems I was seeing, but then I looked at myself, and my own life, and realized that many of the things I was doing were directly contributing to the problems I was seeing and complaining about. I think it is so important to look at ourselves and begin aligning with our values as opposed to blaming anyone. I live a zero waste lifestyle because I didn't want to just talk about how much I cared about the environment, I wanted to live like it.  
8. What's next for you?
I am currently working on a book, expanding the amount of video content I am putting out there, and growing my company, The Simply Co.. In addition to those things I am always working on improving myself, being the best person I can be, living my values, and helping to create the world I want to live in instead of hope that someone else will create it for me. 
9. Anything else you would like to share?
Every single person regardless of who they are, where they live, what they believe in, how much money they have, can take little steps to reduce their impact. It can be as easy as saying no to a plastic straw and it makes a huge difference.
We as individuals are powerful and our choices have an impact.                                                                                 It is up to us to decide if that impact                                                                                    will be positive or negative. 
You can follow Lauren's zero waste life and learn from her about the small changes in our daily habits to create a little less waste and a lot more change.
Lauren's blog: http://www.trashisfortossers.com/
Lauren on Twitter: https://twitter.com/Trashis4Tossers
Lauren on Instagram: https://www.instagram.com/trashisfortossers/
Lauren on Facebook: https://www.facebook.com/TrashIsForTossers/