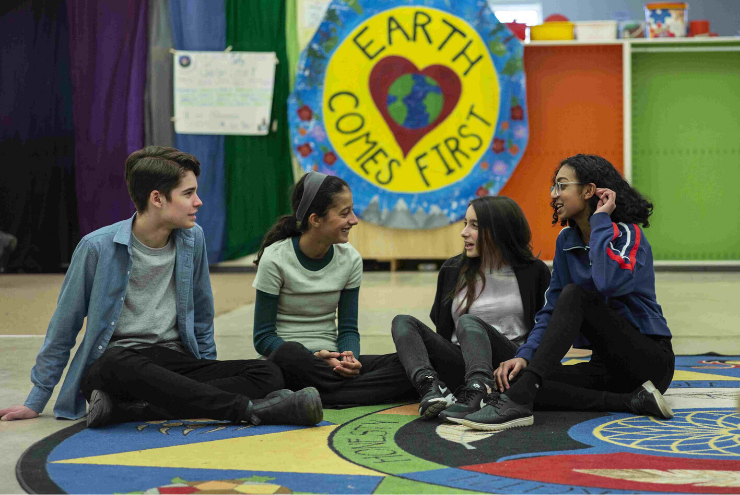 I have been keeping a secret since January that has slowly started to come out over the last few weeks. Together with three other fellow youth activists (and inspiring friends), I am part of a documentary premiering on Friday June 5th – UN Day of the Environment –  Citizen Kid TV: Earth Comes First. 
Citizen Kid began as a moving book collection (Corus Entertainment's Kids Can Press), designed to inspire kids to (see themselves/grow into) become global citizens. I would have loved to read these when I was 9 years-old to be empowered as a young person and know I am not alone. When Whitepine Productions and Corus approached me to be part of Citizen Kid, the documentary, to continue doing what I love – connecting with young people, raising awareness about issues I'm passionate about and shining a light on the diverse people tackling them, to inspire young people to know that they can change the world – I was all in. 
Over the course of six weeks, we did just that – and it was awesome. As youth activists, we understand that environmental change starts when #EarthComesFirst. From Toronto to Ottawa to Washington, we met with people across the spectrum doing the work for our present and our future. I am so proud to be a part of this unscripted, fun documentary to share my journey and the journeys of people I now call my partners and friends.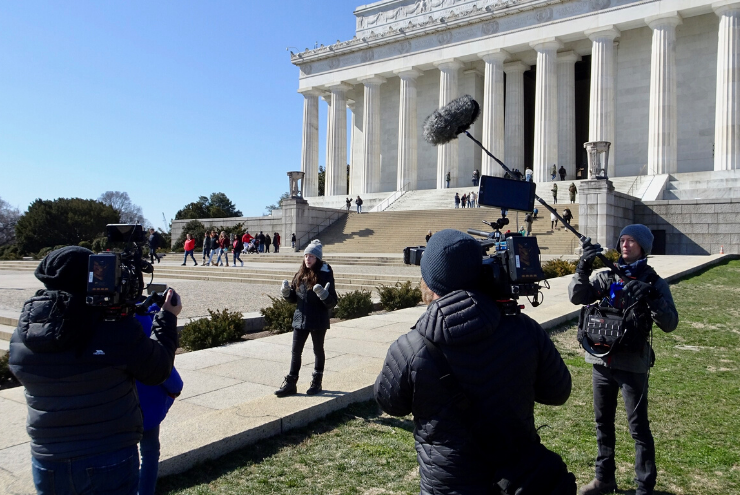 It was an incredible ride and I wanted to share a few takeaways from filming (the behind the scenes you could say) and the three takeaways that I hope you will get when you watch.
Three takeaways I got from filming: 
Every stop along the way – from attending the Nature Based Climate Solutions Summit in Ottawa, to meeting with the Fridays For Future team in Washington DC, to planting seedlings with students to an afternoon walking a snow covered trail with an Indigineous Elder – 

reaffirmed my love for connecting and collaborating with like-minded people with similar interests, passions and goals

. There were so many moments where I had conversations with Cooper, Charlene, Sophia and the other activists I worked with about what we love about what we do and how we manage the obstacles where I said "yeah. Me too." It felt awesome.
Politicians truly want to listen to us and hear our voices

so they can take action on them. Just because we cannot vote (yet), it does not exclude us from being part of the conversation. I had a conversation with Jonathan Wilkinson, the Minister for the Environment and Climate Change and he said "I actually think that young people are the key to changing the minds of younger people." It was a powerful moment I was honoured to hear.

Issue + Gift = Change continues to hold up

.

All 4 of us were taking on the same issue and cause we are passionate about – the environment and empowering young people to create positive change – and we each brought our own gifts to the table to take action.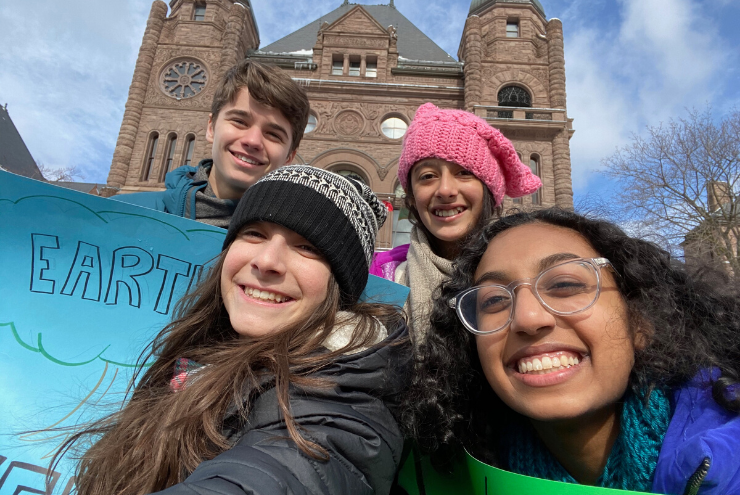 Three takeaways you will get from the show:
Little things add up to make a big difference.

Like many issues in the world, the environment and climate change can seem like such a big and overwhelming issue. But when you look at all actions we can individually take in our lives, it becomes more tangible to solve.

Community is important.

Ask yourself, "what can I do?", then do it and know that there are hundreds – make that, thousands –  of young people doing their thing too. 
You can change the world. Start where you are. Look at your home, then your school and neighbourhood, then your city and then beyond. Change starts at home.
My only hope for this documentary is that people watch it and think "If they can do it, I can do it too," and then do something to make the world (whether that's their home, school, office, neighbourhood, province or country) better than they found it. 
Citizen Kid premieres June 5th at 5:30PM on YTV! Citizen Kid will also be broadcast on YTV on Saturday June 6th at 4.30pm, Monday June 8th at 11.30am, and 8.30pm on June 21st (International Climate Change Day). It will also be available to watch live and On Demand through STACKTV with Amazon Prime Video Channels, no cable subscription necessary.
And if you want to commit to making a difference right now, film your #EarthComesFirst pledge saying how you will put earth first. Don't forget to tag @thathannahalper and @citizenkidtv, can't wait to see how Earth Comes First to you.
Before I sign off, I would like to give a HUGE thank you to the entire crew and team at Whitepine Productions and Corus. Thank you for everything along the way and most of all, for believing in young people and for giving us the space to share our voices, stories, and actions.
Some of my Additional Resources  
PS.  If you want some tangible ideas for how you can take action even during this time of uncertainty, here are some blog posts that I have written over the years for how you put Earth first:
Social connecting over physical distancing. The only way we are going to get through this is together., published in 2020
Earth Day 2019. Take action like the world depends on it … because the world depends on it., published in 2019
Rethinking Reusing, published in 2018
An Exclusive Excerpt From My Book: Role Model, Severn Cullis-Suzuki #DayOfTheGirl, published 2017
One-On-One with Lauren Singer, saying "no" to trash since 2013, published in 2016
New Habits To Create Change, published in 2016
This Town Composts, Recycles Or Reuses 80% Of Its Garbage. Wow!, published in 2015
The Top 10 things I found cleaning up trash in the schoolyard, published in 2015
10 Of The Greatest Recycling Ideas Found This Week, published in 2015
My Eco Tip For The Day, published in 2014
5 Apps That Will Help You Change The World, published in 2014
I can be more eco-friendly in 2013. You can too., published in 2013
My Mom's Eco-Friendly Cleaning Supplies Experiment, published in 2012
Eco-Dictionary – Defining Some Big and Important Eco Words, published in 2012
Be More Eco-Friendly for $10 and 10 minutes, published in 2012
CitizenkidTV: Earth Comes First Behind The Scenes in Photos