Guest Post by Jordana Comiter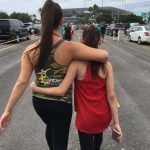 This post on Facebook by Jordana caught my attention (and my heart) last night. It is Holocaust Education Week in Canada and today, November 6th, many of my American friends are first-time voters in a critical election. 
Jordana and Jaime met through their love of dance in the summer of 2014 and had the kind of friendship that girls dream of. Jordana describes Jaime as her "little sister and best friend all at the same time. She was 'my person'." Jaime Guttenberg was 14 years-old and a student at Marjory Stoneman Douglas High School. She was killed on February 14, 2018.
These are not easy times. We are challenged everyday to rise above and "be the change we have been waiting for." This piece Jordana wrote is a powerful step in that direction. I am honoured to share it here with her permission.
---
This past week in Amsterdam, I had the chance to visit the Anne Frank Huis, just six days after an anti semitic man charged into the Tree of Life synagogue in Squirrel Hill, Pennsylvania yelling that "All Jews Must Die!", killing eleven people, and 263 days after my best friend was murdered in her school hallway. While standing in the rooms that Anne Frank and eight others once hid from Nazi soldiers, I thought about how anti semitism and mass killings are still an occurring issue in 2018.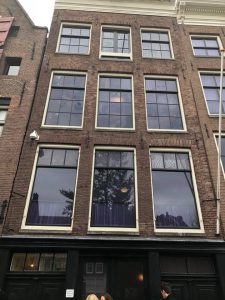 The Anne Frank Huis allowed me to think about what it would have been like had I been in her position. The long list of restrictions that Jews faced during the Holocaust that were plastered on the walls, as well as the physical copies of Anne's journal entries ran chills all over my body. I could not imagine living in a world where my religion put my life at risk. But then it struck me, that being Jewish is the reason that 11 innocent souls were buried below the ground last week, and that it so easily could have been me. I don't understand how religion is still a reason that people are being murdered. Religion does not define a person. These 11 people are no longer here, simply because they were Jewish, and that is something that I will never be able to fully grasp and accept.
The restrictions that Jews faced during the Holocaust have faded over time, but the fear of going out in public is something that is far too familiar to this generation. Gun violence has taken over so many lives and has instilled fear into the minds of millions of individuals despite their religion. It frustrates me that during the Holocaust they hid in their homes for months to avoid being killed, and now, leaving one's home is still a risk for being killed as we can be gunned down in our own school hallways, streets, stores, places of worship, yoga studios, concert venues, etc. I fear my life every single day. I fear that when I leave my house a gun will end my life. Mostly, I fear that this fear is something that will always be a part of society, that change will not come, and that six million people will soon be dead because of gun violence, just like six million Jews are dead because of anti semitism.
As I stumbled into the gift shop toward the museum exit, I stumbled across a book called Anne Frank Huis ANTISEMITISM: past and present (Boom). I flipped open to a chapter labeled "Is antisemitism on the rise?" I looked to my right and read the quote on the wall of the museum stating "we don't think that this could ever happen again, but it could happen again". It did happen again. I was filled with sadness as I thought about the 11 lives that were ended last week in Pittsburgh due to an anti-semitic act of hate and gun violence. I will never understand why anti-semitism exists. Why can't we all just love?
Jaime Guttenberg was only fourteen years old when she was gunned down with an AR-15 in her school hallway. I can't help but think of the fear my sweet best friend had while running down the hall with a bullet aimed at her spine. The gunman did not know her; he did not know her name, her age, her religion, or anything for that matter, but he still shot her. Like Anne Frank, she was filled with fear because somebody was out to get her. Just like Anne hid behind her bookshelf and told her father to be quiet when running the faucet, students of Marjory Stoneman Douglas hid in closets and desks, covering the mouths of their classmates so that the shooter wouldn't hear their cries. It is truly sad that this is still the kind of world in which we live. We grow up in a society that tells us to be fearless, but how can we be fearless when we have just buried our best friend simply because she went to school?
Throughout my audio tour of the house, I learned about Anne Frank's bravery, strength, and compassion, three traits that I could use to describe Jaime. I couldn't help but think of Jaime each time I read about Anne, and how both of their stories can be paralleled in some ways. Both Anne and Jaime's lives were cut short due to acts of hate. Both had potential and passion, yet were never given a chance to fulfill their dreams. Anne dreamed of being a writer and Jaime dreamed of being a Physical Therapist. While Anne's dream did come true, she was not alive to see it. Both never got to say goodbye to their friends and families. Both deserved a long life of happiness but didn't even make it past their teenage years. Both inspire thousands of people across the world, and I hope, that both of their memories will live on forever.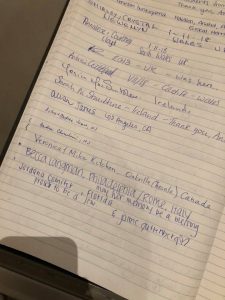 Leaving the museum, there is a guest book to be signed by those who wish to leave their mark. I felt an instinct to leave Jaime's name in the book. I carry Jaime's memory with me everywhere I go. Jaime will never get the chance to visit the Anne Frank Huis, let alone visit Europe, but everyday that I am here, I look up to the sky, and act as if she is right above me experiencing it all with me. Jaime's name is now forever imprinted in the guestbook at the Anne Frank Huis, and in a way, Anne and Jaime are linked together forever. Jaime's mark was left in Amsterdam that day.
As I left the museum, I was feeling all kinds of things. I was mostly speechless. There was nothing I could say that would sufficiently capture my thoughts. I was filled with sadness at the thought that there are so many people in this world whose lives are cut short due to hate. I wish we lived in a world in which love was the only religion. I hope that somewhere up in heaven Anne Frank, Jaime Guttenberg, the 11 lives lost in Pittsburgh, the millions of Jews killed in the Holocaust, the 16 other MSD victims, the Columbine, the Sandy Hook, the Virginia Tech, the Orlando Pulse and all other everyday gun violence victims are surrounded by love. To all of those who are no longer here because of an act of hate, I am sorry that love wasn't strong enough in that moment to save you. May you all rest in peace and may your spirits live on forever. To those who are still alive, choose love. Let love be your answer to all questions, let it inspire you and let it fuel you, and let it give you the hope that we will one day live in a world where hatred will never be the answer. Be proud of who you are, where you come from, and what you stand for, and remind yourself that just because somebody is different, doesn't mean that you cannot choose love. Always choose love over hate, always.