I love what I do and I firmly believe in the things that I stand for and the things that I stand up for. I believe my voice matters, and I have never been afraid to use it. I've had some incredible experiences and opportunities throughout my journey and have met some really awesome people. I have met musicians, actors, world leaders, and activists of all ages. I have had the best geography and history lessons because I have travelled. There is no better way to really know Canada than travelling across it in a bus from coast to coast meeting students and teachers all over our country. I have given keynote speeches in New York, California, New Orleans, Kentucky, Texas, Las Vegas and more. I have spent time in Kenya, Costa Rica and gained a true understanding of global development. Even recounting this here and now, I know that I have an amazing life.
But I want to tell you something – it's not easy. There is hard work and a hard reality for me. I'm going to be totally honest and very vulnerable and tell you a little bit about my personal life.
One of the hardest things for me has been my social life, especially at school. When I'm speaking or participating in events–big or small–I'm always very aware that I'm surrounded by people who "get" it. We are connected because we are all taking action, not necessarily on the same issues or in the same way, but we are all activists in our own way. That's where I feel the most safe, welcome, and understood. School, though, sometimes is a completely different story.
Sometimes, when I return to school after travelling, I feel quite the opposite. I am often mocked and put down. A lot of this plays out because people see my posts on social media. And let's just say, that what I post online, is pretty different than what most teenagers post. And that's okay. I'm all for posting what you want, and I actually really like a lot of the stuff I see. But my friends aren't posting about kindness and how we can make the world a better place, you know? So I come back to school and hear questions, such as, "Did you save the world yet, Hannah?" said in the most sarcastic tone.
By now you know that I am not a bystander, whether it is standing up for something I believe in on my blog or standing up for someone in the schoolyard. I do this instinctively; it's not a choice to me. It's who I am. When I see someone being bullied or I hear people using terms that are offensive, I call them on it. I'm talking about words and terms like retarded, gay, basic or go kill yourself. I've heard these things said to others. They've been said to me too. It hurts. It stings. So, I've called people on it, and their response is always something like, "What are you going to do, Hannah, go write a blog post about it?" (Asked in the same sarcastic tone mentioned above.)
I could tell you that I brush it off. That they're just words. That I don't care what people think. But I'm not going to tell you that because it's not true. I told you I was going to be honest and vulnerable–and so here I am.
I did write that blog post. I called it "Sticks and Stones may break my bones, but words will last forever". That's the truth. Every time I hear something negative said to me, about me or about my activism, it affects me. It lowers my self-esteem. I've sometimes wondered if I've made the right choices. That maybe I'd have an easier time socially at school, if I wasn't an activist.
Do you want to know how I deal with this? First, I give myself the opportunity to be affected by it. Sometimes that's 30 seconds, sometimes it's 30 minutes. But I don't stay there too long. I've learned to develop a thick skin and also perspective. As I said, I love what I do and believe in it. At the end of the day, I feel good.
I don't want to give you the impression I don't have friends. I do. I have friends both at school and beyond who are awesome. They are fun and supportive and always ready to hang out, go to concerts, or just talk. I'm really lucky that way, too.
There's another challenge, too. The travelling is amazing, and I'm out there doing things that are important me, but when I'm away from school, I miss things. My teachers have always been supportive and understanding, but they have never cut back on any projects, assignments, or tests. So when I'm away, I have to keep up and catch up on the work I miss. I have studied on planes, trains, and automobiles. Literally. I have worked on projects in airports, hotel rooms, and restaurants. When I was on the WE Create Change Tour from April to June, I had a teacher on the road and we worked for a set amount of hours every day. Math has always been a struggle for me; I just don't think that way. The older I get, the more difficult it is to catch up on that instruction and class time that I miss in math. I have a math tutor twice a week, and meet with my teacher during recess and lunchtime. It's really stressful sometimes keeping on top of it all. School is important to me–my education is important to me.
The other consequence to missing as much school as I do is that I miss out on everyday things like clubs and student council. I love those things. I would really like to be more involved in my school community, but I've had to realize it's not fair to anyone when I can't make the time commitments. I know this because when I have been involved, I miss meetings because I'm away or because I need to spend the time with my math teacher. I know I've let people down since I can't be as available as they need, and that's hard for everyone, especially me.
I've been thinking a lot about a conversation I once had with Spencer West when we were travelling. We were talking about how hard it is sometimes being away from home and missing those everyday things we used to take for granted. Life keeps moving forward, whether you're there or not. So you miss celebrating birthdays or holidays with friends and family, you miss going to movies and baseball games with your friends. Spencer told me about a time when he had just come back from a few weeks on the road and was at a cottage with a bunch of his friends and there were moments that felt kind of awkward. He'd never felt that way before with them–they were his closest friends. But while he was away, they didn't stop hanging out together, and so they had a whole bunch of memories and inside jokes he wasn't in on. That conversation with Spencer was a really important one for me, because I realized it's not just me–this life that we've chosen, that we work hard for, that we believe in and that we love – is hard sometimes, for all of us.
I want to bring this full-circle and come back to where I started–I love what I do. Being an activist, blogger, and motivational speaker is fulfilling and it's who I am. But I'd be lying if I said my life is always filled with sunshine and rainbows. Sometimes it's stressful to balance it all and sometimes it makes me a target. I tell you this because I want you to know it's inevitable that you will have challenges in your journey. Name one successful person that hasn't overcome challenges to get to where they are. None? Me, neither.
When you are in those moments when you're stressed out, misunderstood, or overwhelmed, STOP. Remember your why. Why did you start? Why do you do it? And then, keep going.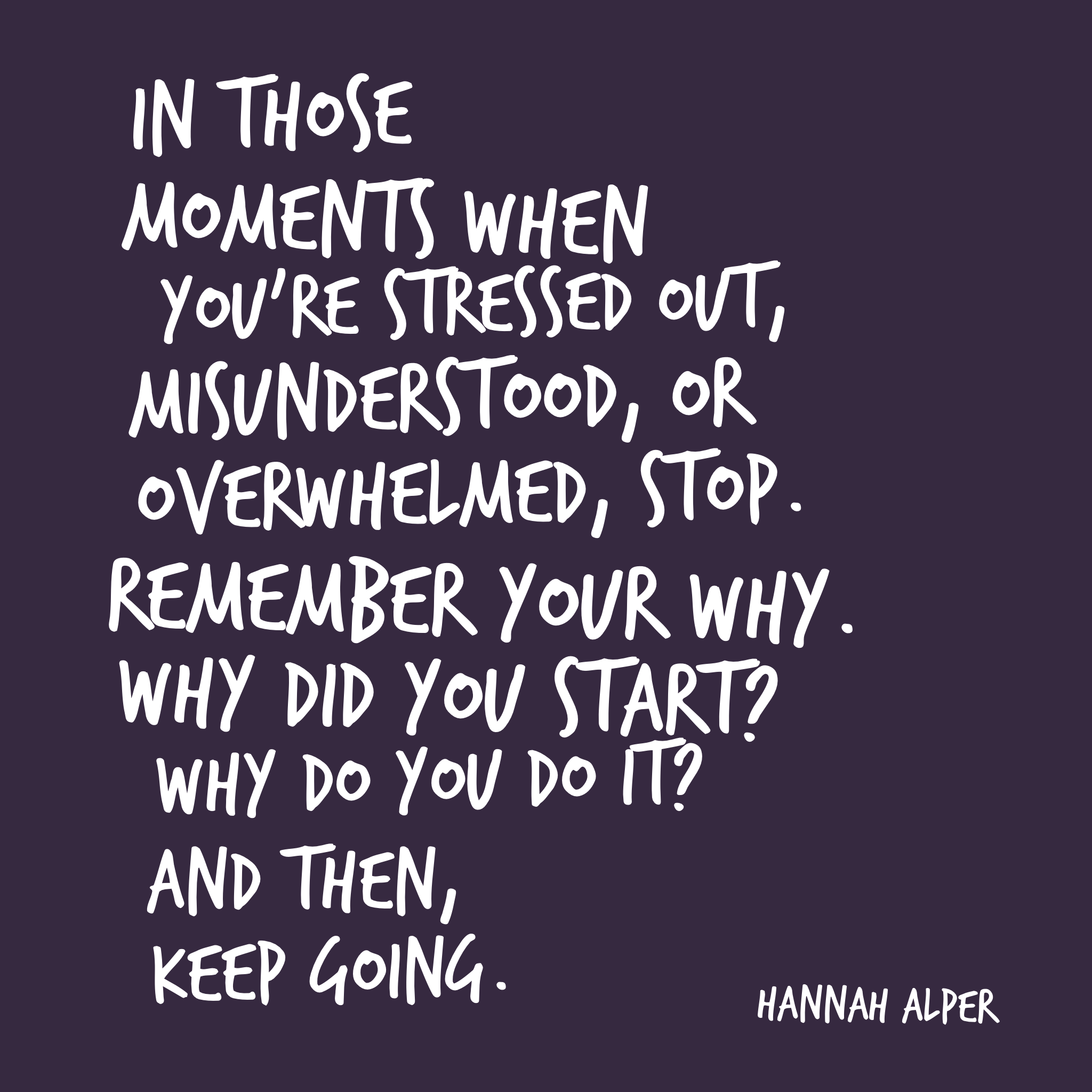 ---
This is an excerpt from my book, Momentus: Small Acts, Big Change. The book is a collection of 19 interviews that I did with some of the most inspiring activists that I have met along my path on my journey as a youth activist. Each of the profiles is paired with a personal reflection inspired from that conversation.