From supporting one bullied teenager in Nova Scotia, to supporting and educating youth around the world, Travis Price is what you might call an "everyday hero". On the first day of school in 2007, Travis and his friend DJ were in grade 12 and witnessed a grade 9 student being tormented and bullied. They hated that this was happening and they decided to do something. Enough was enough. It was clear the student had become a target based on what he was wearing—a pink T-shirt.
After school, Travis and DJ bought 50 pink shirts and then emailed everyone they knew. They wrote, "Tomorrow we are creating a Sea of Pink. Wear pink to stand with this boy. Wear pink to stand up to the boys who bullied him. When we stand together wearing pink, the bullies will be forced to step down." The next morning, hundred of students showed up in pink shirts. When that grade 9 student walked in and saw his peers in pink, he smiled and sighed. He was not alone.
That day, the movement now called Pink Shirt Day was born.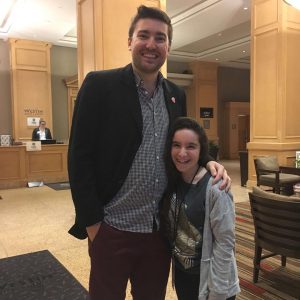 Travis is pretty special to me. We became friends when we both spoke on the 2014/2015 WE Day Tour. His story shows that sometimes the biggest change comes from small acts. Everyone can do something, for someone, at some time. Travis and I caught up via Skype in the middle of his 2018 Pink Shirt Day Tour. I asked him if he ever thought his actions 10 years ago would make such a huge difference for so many.
"We never thought it would be anything, so there was never a fear of it not working, or people latching on. We just wanted to show that kid it was okay. We actually thought we might get beat up. We thought we might be the only two in pink, and we were kind of ready for that. If it went down that way, it went down. But we would be able to know that we stood up for him."
But that's not what happened. Ten years later, the pink shirt is a symbol against bullying all over the world. Pink Shirt Day is a day where we come together, creating a sea of pink. It's a day that empowers us to stand up against bullying because we do it together.
"I think we not only made a difference to that boy, but we changed the culture within our school to the point we're now changing the culture around the world and the way people are addressing bullying."
Today Travis is an anti-bullying advocate, it's his full-time job. I wanted to know if how he talks about bullying has changed since 2007.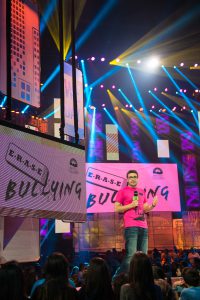 "My message has varied slightly, based on what I've learned and how important it is that we talk about bullying in a certain way. We don't address people as bullies; we say they are people who bully, because bullying is simply behaviour, and behaviours can change. But if we label somebody a bully, that means that's who they are, that's what they need to be, and people try to live up to expectations, people try to live up to those labels, unfortunately."
The same goes for the person being bullied. When someone is bullied, we shouldn't label them as a victim and they don't need to define themselves that way. We need to isolate the experience.
"But my message is still the same, that one person can make a difference, one person can save somebody, and we need to continue to talk about bullying openly and freely, and not be scared to address the issues that happen to us.
This is really the idea behind Pink Shirt Day—keeping the conversation about bullying active and letting everyone know they have allies and people to turn to. It's as simple as going up to someone and saying, "I'm here for you and am ready to listen to you." Having an open ear reminds people they are not alone and they have people who support them.
I post about Pink Shirt Day on my social media accounts. Sometimes the day gets criticized or receives comments such as, "Why is Pink Shirt Day one day? Why can't we talk about bullying every day?" I asked Travis what he says to people when he gets these questions.
"I say the goal is to make Pink Shirt Day every day, but that's not up to me. That's up to them. It's up to teachers, and it's up to community leaders to make the choice that they will address bullying in their schools, in their communities. That's the only way. Research shows that bullying prevention education is great for schools. When we educate youth to deliver the message to other youth, that's when we see our strongest results."
Travis believes that once every student, teacher, and community leader steps up and says "enough is enough" that's when we'll make every day Pink Shirt Day. Everyone needs to help make it stop.
It can be hard, though, to stand up for what you believe in, or stand up for others you see being bullied. Travis gave me some good advice on what we can do if we find ourselves in that situation.
"If you see someone being bullied online, or face to face, it's not necessarily meaning you have to step up for that person in that moment and shut those kids down. You can go and get a teacher. That can be just as helpful as standing up directly."
I share Travis's story as often as I can when I'm speaking to groups of students and educators. For me, it really is one of the best examples I've come across that shows that what seem like the smallest things can make the biggest difference. As Travis says, "It's the little acts, the simple acts of kindness that can make the world of difference. With Pink Shirt Day, we never set out to change the world; we just set out to help somebody."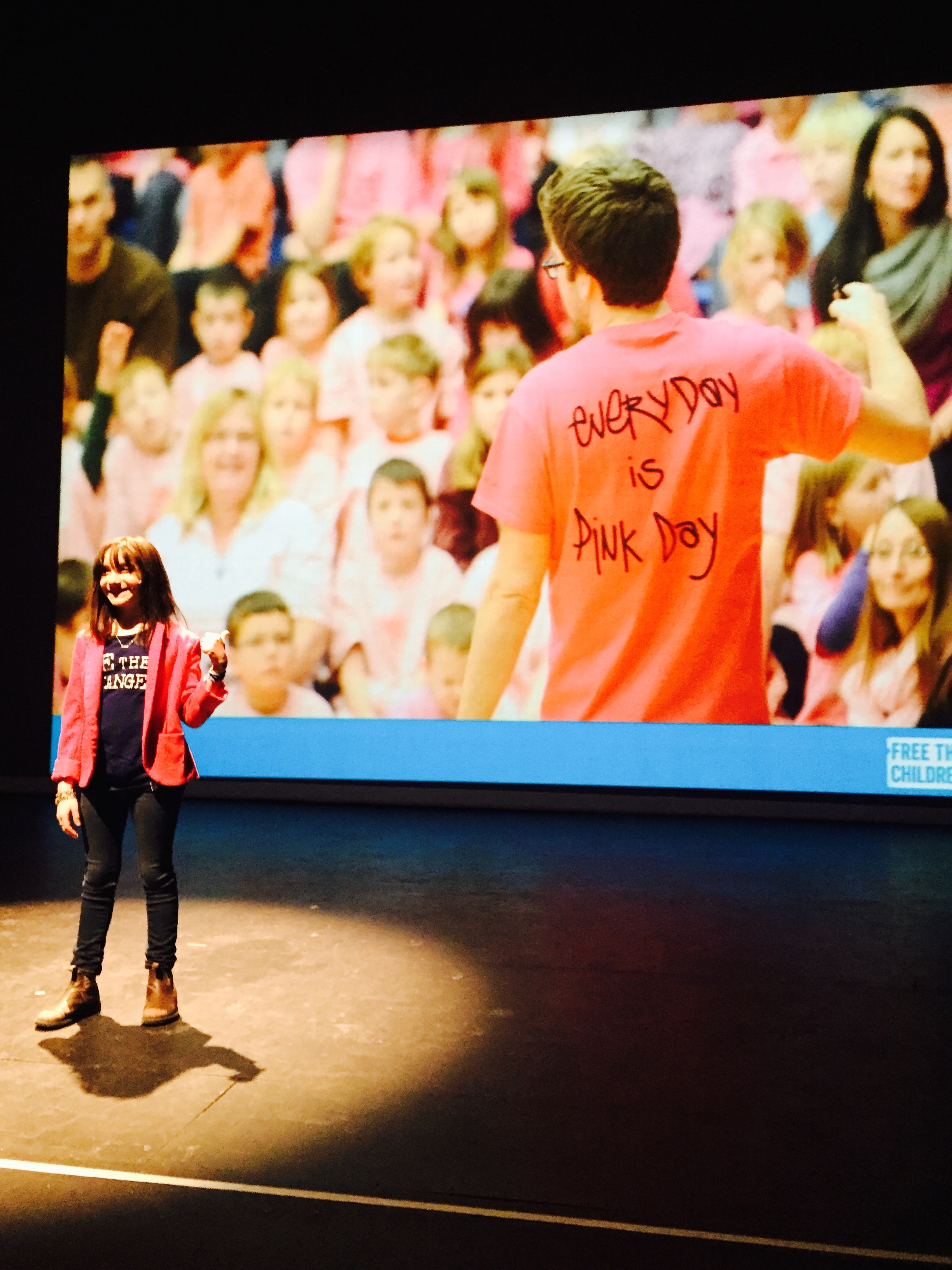 Pink Shirt Day is always the last Wednesday of February – in 2019, that's February 27. There are many ways to get involved and show your support. Consider any (or all) of the following actions you can take…on Pink Shirt Day…and everyday.
Wear pink.
Use the hashtags #PinkShirtDay and #PinkItForward, tag @pinkshirtday on Twitter, Instagram and Facebook.
Be positive force wherever you are – at school, at work and online.
Be an upstander, not a bystander. If you witness an act of bullying, say something, do something.
Take bullying seriously. 1 in 5 Canadian teens are bullied and 7 in 10 are cyber-bullied.