This year's Earth Day just might be the most important one yet for my generation. It is the first Earth Day since 16 year old Greta Thunberg emerged as a global leader and role model for the climate change movement and started #FridaysForFuture, launching a worldwide phenomenon of young people demanding governmental action on climate change. If there is one thing that is clear to us it is that we need to take action like the world depends on it, because the world depends on it.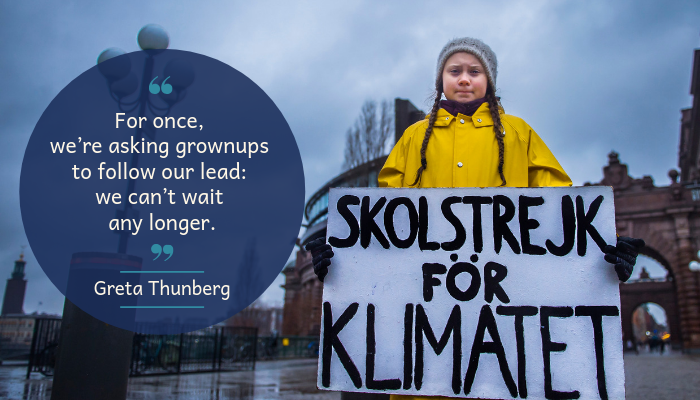 The environment is one of those issues that when we look at the state our world is in and the statistics and feel overwhelmed. It's easy to think "I'm only one person. What can I do that would make a difference?" But this cannot be a reason not to act. Everything that we all do adds up to make a difference. You can do so much in your life, in own actions to inspire change in your communities. Don't lose sight of the fact that real change starts right where you are, right now.
Be a conscious consumer. Purchase from businesses and companies that share your values. I'm 16 and I'm obviously not the one in my house with the purchasing power, but I can make suggestions, offer solutions and influence our family purchases. We need cleaner and healthier energy. Consider switching to renewable power and energy alternatives such as wind and solar power. This is an opportunity to influence your parents, your school or your office. Also support the businesses that have adopted clean energy.
One of my earliest blog posts was about the 3 Rs and what I said then still holds true – of the 3 – Reduce, Reuse, Recycle – Recycle is the last resort. While recycling is better for the environment than sending our waste to the landfills, the recycling process takes an incredible amount of energy.
And then there's this fact – We are bad at recycling and recent reports show that we're so bad at it, that the large amount of non-recyclable items in our blue bins often mean that truckloads of what should be recyclable is so contaminated that they end up in the landfill anyway.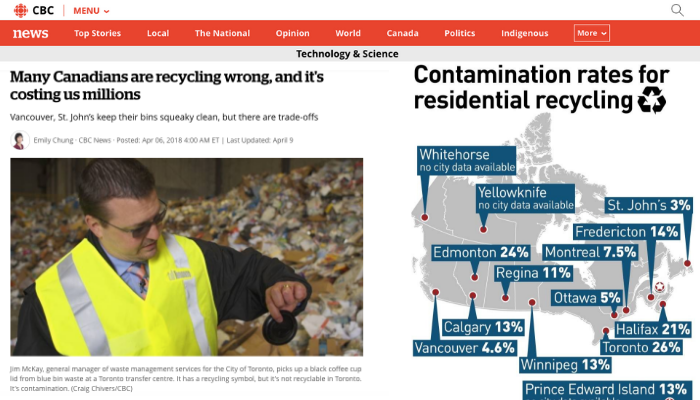 So, we're clear that while recycling is a better alternative, the best things that you can do for the environment are reduce and reuse. I've been paying more and more attention to what and how I consume and I've been having some fun thrift shopping. I've recently discovered another initiative that is making it easier to reduce and reuse – lending libraries. These libraries are not for books though – they're for things like tools, equipment and small machines. Have a project that you want to take on but you don't have a sewing machine? Don't buy one, borrow one. And, if you're that person that has a sewing machine that you don't use, donate it to the library.
I don't write about my mom often, but I think now's the time and place because over the past year she has developed a couple of new interests (maybe obsessions) that are totally relevant here – Marie Kondo and HGTV. Over the winter my mom was on a decluttering rampage. That's the only way I can describe it. Boxes and bags of things that she deemed we no longer needed and was going to donate – clothes, linens, books, kitchen and all around house stuff. My dad made more than a few trips to Value Village. This was brought the idea that we need less to make us happy and we need to keep (and buy) what we need and what bring us joy. Sounds good, right?
My mom has also been watching a lot of HGTV and sometimes I think that she thinks she can build us a new house – or maybe just a shed or a deck. While she probably knows that she probably can't, she might be ready to sew a pillow from a pattern or maybe build a flower box. This idea of being able to borrow tools and equipment so that she can give it a try is perfect for her. There is one opening up in my community later this spring called The Lendery and I have a feeling my mom will be there often.
Say NO to plastic whenever you can – bags, straws, cups, cutlery. The more you do it, the easier it becomes. If you are lucky enough to live in a community with safe, clean drinking water like I am, why drink from plastic bottles when you don't need to?
You know what is a great conversation starter? When you're at the mall with your friends, and you're buying a smoothie or a drink, and you pull out a reusable cup and reusable straw. Even better? When you're buying food and rather than using plastic cutlery, you use reusable ones such as metal or wooden cutlery. I carry them around with me wherever I go because I know that in whatever I eat or drink, I'm not contributing to the landfill.
Drive less and walk or bike more. It's as simple as saying "Hey dad. I don't need a ride to school tomorrow. I'm walking." This not only helps reduce air pollution and your carbon footprint, but you'll also get a workout! Encourage your friends to join you. Its a win-win-win situation.
Knowledge is everything. Remember this simple truth – If people don't know about an issue, they can't care about it and if they don't care they won't do anything. The most critical thing that you can do when it comes to something that you care about is learn about it. Once you have the knowledge, not only will you be more motivated to get out there and do something, but you'll be able to motivate others to join you. Throughout my journey, if there is something that I'm passionate about, the first thing I do is learn.
Get loud. Use social media and write to your politicians (who basically work for you), CEOs of large companies and the people that can do something. Tell them the urgency of climate change and how it will affect the present and future generations. You have everything you need to do this in your pocket.
Vote. You are all either eligible to vote or you're not that far away from being eligible. When you are at age to vote, vote! Vote for the people who will implement climate change policies and take action on the issues that matter to you. If you can't vote yet (like me), tell other people to vote! Just because you can't vote doesn't mean you still can't influence someone who can.
If you still think that you're just one person and can't make a difference, take a deep breath, and think again.
---
This post was sponsored by York Region to celebrate Earth Day 2019. All of the suggestions and ideas are mine (obviously).