To mark International Women's Day 2016, I decided to shine a light on 8 women you might know, but you should. What I want you to realize, now more than ever, is this: while there are many famous women that are inspiring role models for girls like me, there are also many women among us who create change locally and globally that are to be admired. Please note that I have chosen 8 in honour of International Women's Day on March 8th and that I could have very easily featured hundreds of them.
Salome Marako – her momentous milestone in her Kenyan community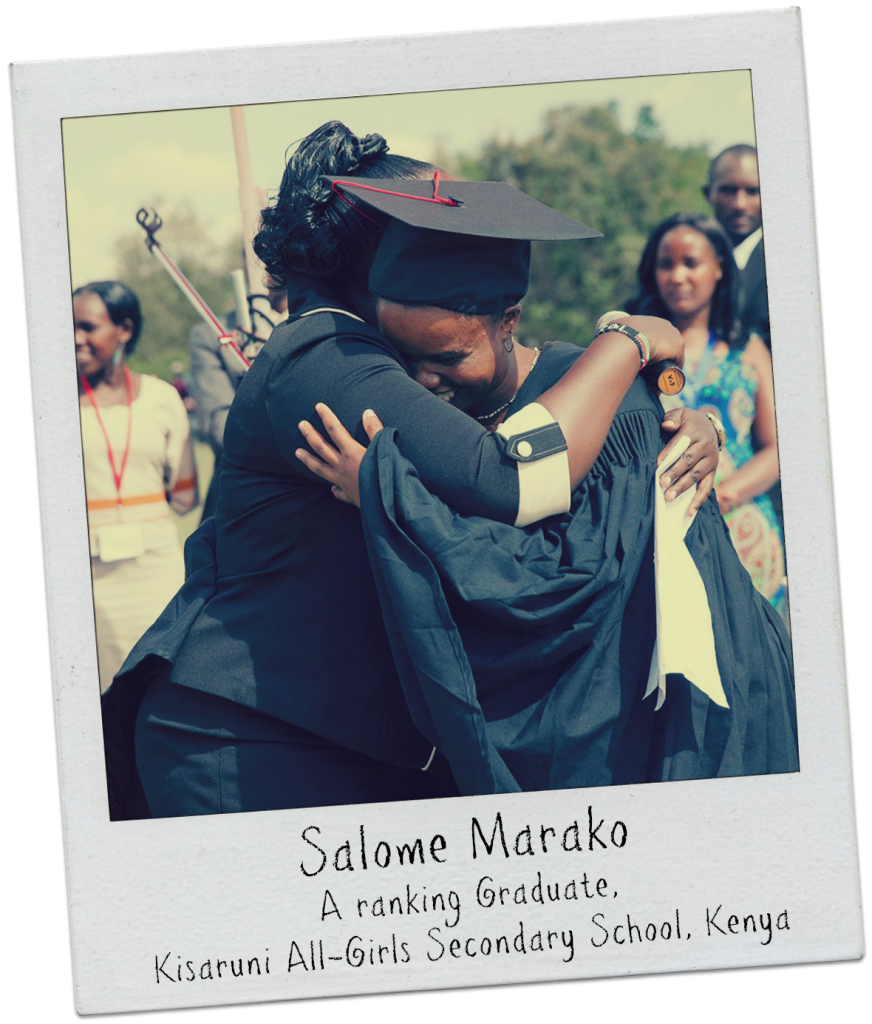 Salome is the first girl EVER to earn an overall A ranking on her exams in Narok County, Kenya! She attends the Kisaruni All Girl Secondary School, that Free The Children opened as it's first All Girls Secondary School in the Narok South District of Kenya in January, 2011. Through the months and years, Salome has faced many obstacles and skeptics on her quest to reach this goal. During droughts in her community, she would balance working on neighbouring farms and earning extra money for school supplies. Despite highs and lows here and there, Salome stands tall with her aspiration to become a doctor. Salome is an inspiration to not just all of the girls in her community, but also to so many people in the world facing obstacles like Salome, whether that's in your country or on the other side of the world.
Rachel Parent – 16 year old GMO Educator and Activist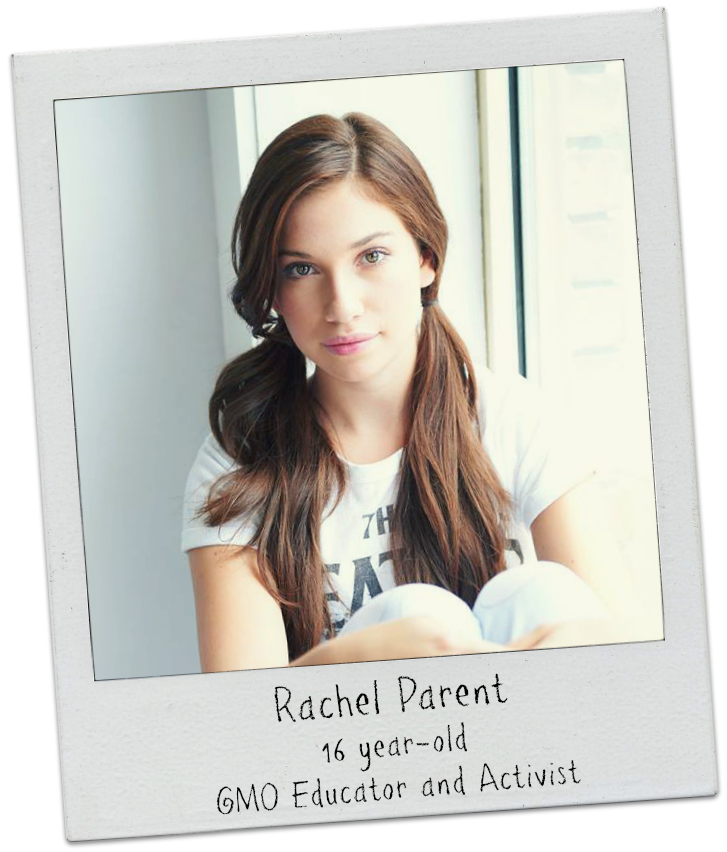 Rachel is not your average teenager. When Rachel was 11 years old, she was assigned a school project about GMO's (Genetically Modified Organisms). While researching, Rachel was stricken by what she learned about GMO's and how any food can be genetically changed and can be dangerous for people's health. The real problem, she learned, is that many companies who's food contains GMO's does not actually label this on their products, with people – especially kids her age – not knowing what's in their food and therefore not being able to make informed decisions about what they're eating. She founded Kids Right to Know, through which she seeks to educate youth about important health and environmental concerns, with a focus on genetically modified food and the need for proper testing and labeling. In 2013, Kevin O' Leary suggested on one of the episodes of the Lang and O'Leary Exchange that people who stand against GMOs should "stop eating" so we can "get rid of them." Rachel was outraged, and challenged him to a debate. O'Leary agreed, and the resulting debate was posted on Youtube, raising awareness about GMOs. The video now has almost 7 million views! Rachel is an advocate for something she is passionate about and she is doing something about it.
Kasha Slavner – 17 year old photographer, filmmaker and social entrepreneur
Kasha is a photographer, filmmaker, author, blogger and social entrepreneur who founded the Global Sunrise Project. A Global Sunriser is someone who is dedicated to making the world a better place with big or small actions not just for ourselves, but for future generations. Becoming a Global Sunriser is easy. You just need to have the will to make a difference and take action, no matter what. Kasha is the chief Global Sunriser. She has attended the UN three years as a youth delegate. When Kasha learned about the problems the world is facing, she knew she had to do something. So, she travelled the world using her love of photography, film and change-making to create a short documentary about what it means to be a global citizen. She called the documentary, The Sunrise Storyteller, because it will focus on stories of hope and resilience where people, despite what challenges they may face, are doing good things to make a difference in their own lives and in their communities.
Trinity Arsenault – 16 year old swimmer and active lifestyle advocate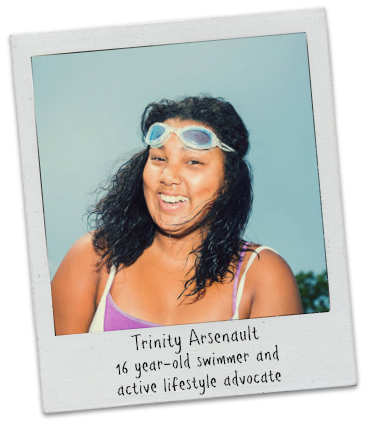 At 14, Trinity became the youngest girl to have swam across Lake Ontario, that's 56 kilometres. She trained for two years day and night so she could reach her goal. Trinity was a perfect choice to be an Ambassador for the Always #LikeAGirl initiative, which aims to boost the confidence of young girls and women. Trinity is a true example of someone reaching high and working tirelessly to achieve it. Through her journey, she says she has learned to dig deeper and finish what she started. Trinity decided to swim for a cause, raising money for kids whose families can't afford to put them in sports.
Sabrina Cruz – 17 year old Youtube Personality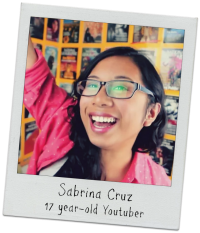 In just 4 years, Youtube personality Sabrina Cruz has earned over 130,000 subscribers and almost 7 million views. She has caught the attention of author and Podcaster, John Green. Sabrina has also attended Vidcon as a special guest and hosted a panel called "YoungTubers". She started this because she believes that young people can make amazing content but others don't believe that we can because we're young. She started this panel for young, bright-minded Youtubers discussed experiences, being a kid on the internet and all kinds of content. Sabrina's YouTube channel, NerdyAndQuirky, shows that it's awesome to be unique and that we should embrace that. She has an remarkable passion for creativity and passion for life.
Linda Manziaris – 15 year-old Jewelry Designer and Social Entrepreneur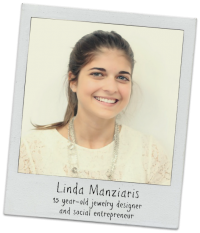 Shortly after a Me to We family trip to Kenya in 2012, Linda decided to focus on her creative talent as a jewelry designer to become a social entrepreneur. She launched her collection on her website, Body Bijou, to sell her creations and raises funds and awareness for an organization founded by her older sister, Girls Helping Girls, which helps girls in need attend school and reach for a better future. Linda's motto for Body Bijou is "Look good, feel good and do good." In 2014, Linda won StartUp Canada's 2014 Youngest Entrepreneur of the Year Award. Linda and Body Bijou have been featured in InStyle magazine, the Globe and Mail, on Entertainment Tonight Canada and many more.
Linda is a true example of someone who lives by my formula for making a difference, issue + gift = change. She has created jewelry AND change. She has also given others the opportunity to join her in making a difference because when you purchase a piece from her collection, 50% of the profits will help someone go to school and ultimately, create their own change.
Ashley Rose Murphy – 17 year-old HIV Educator, Activist and Motivational Speaker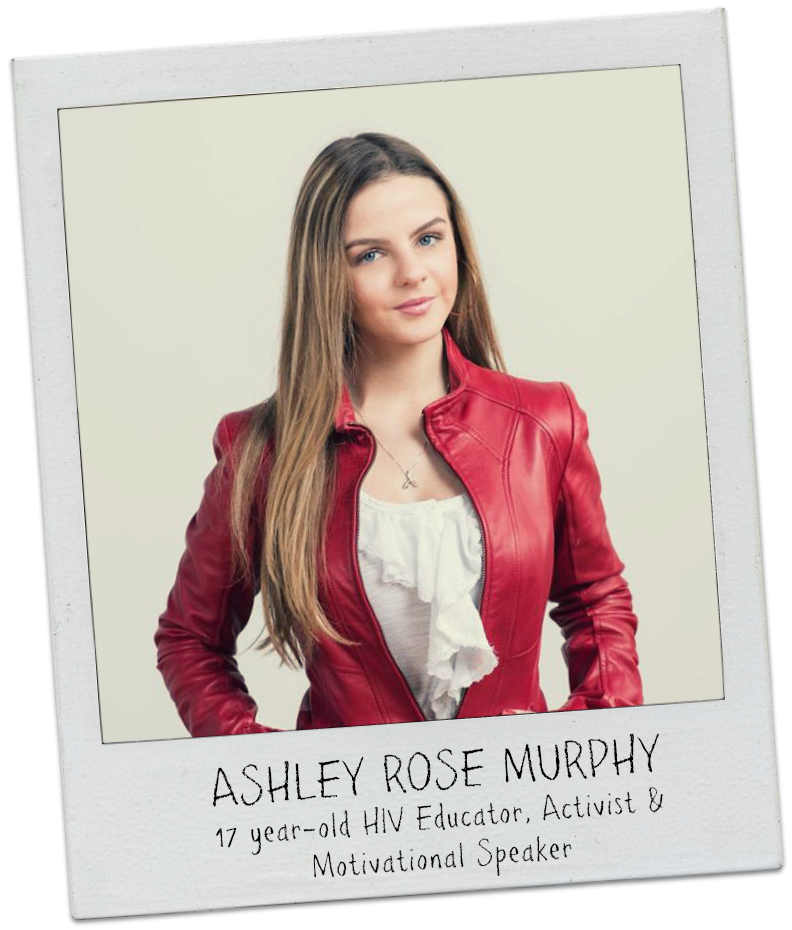 Wherever she goes, 17-year-old Ashley Murphy brings along her strength, courage, and the idea that we have to live life positively—no matter what challenges we are faced with. Born to parents unable to care for her, Ashley was fighting for her life in the hospital at just six months old. She was born HIV positive and developed into AIDS. She was placed into foster care, and her foster parents were told Ashley had just weeks to live. But after taking Ashley home, her health steadily began to improve. Those foster parents ultimately adopted her and she is part of a big, loving and supportive family.
Ashley has been speaking publicly about her condition since age 10. She spoken at We Day across North America. She is an Ambassador for CANFAR (Canadian Foundation for AIDS Research) and the Elizabeth Glazer Pediatric AIDS Foundation. Ashley has travelled to Geneva, Switzerland to participate in the inaugural UNAIDS Gala and to New York to speak at the High Level UNAIDS General Assembly meeting.  Ashley's story has inspired many people around the world, especially others with HIV, with the message that we can all overcome our challenges—and use them to help others.
Today, Ashley is getting ready to celebrate her 18th birthday. The girl who no one thought would celebrate her 1st birthday, is one of the strongest women I know. CANFAR has been running this beautiful campaign in honour of Ashley's 18th birthday. The initial goal, to raise $18,000 in honour of the birthday that was never expected to happen, has been exceeded in a big way – 3 donors are each matching the money raised up to $18,000 each and the campaign is now over $120,000. All money raised will go to research to find better treatments and hopefully a cure for HIV/AIDS. Click on the link to read about her story in her own words and there is a link to donate as well. Ashley is alive because of AIDS research. Let's end AIDS. It's well past time. 
Carol Todd – Anti-bullying and Online Safety Advocate, Founder of the Amanda Todd Legacy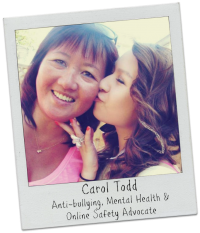 On October 10th, 2012, Carol's daughter, Amanda, took her own life. Amanda was a victim of bullying – both online and offline. She was only 15 years-old. Only weeks before she died, Amanda posted a video on Youtube called "My story: Struggling, bullying, suicide, self harm," she clearly wanted her voice to be heard – she had something to say. To date the original video has been viewed more than 11.5 million times. Carol Todd founded The Amanda Todd Legacy to raise awareness about bullying of all forms and mental health. Amanda's Legacy with the support of the World Federation of Mental Health (WFMH) launched "Light up the World in Purple", campaign to recognize the importance of mental health wellness and the destigmatization of the issues that surround mental illness. Carol travels all over the world to speak to students, parents, teachers and organizations adding her voice and strength to raise awareness about online safety, bullying and mental health. She is among the most informed and educated experts and was recently in Dublin, Ireland to participate and speak at the Global Stop Cyberbullying Youth Summit, presented by Google and Facebook. I have had the opportunity to see Carol speak and also get to know her over the past few years. She will always be Amanda's mother and she is Amanda's Legacy –  one that helps and supports others.
In keeping with the theme here of International Women's Day, I've got one more shout out that I'd like to mention. Every single one of the incredible women above has had support from a very important woman in our lives – our mom. (I don't want to leave out the dads, but hey, it IS International Women's Day!). They are our mentors and heroes. They have always believed in us and encouraged us. As Amanda's mom, Carol is continuing to love and support her daughter through Amanda's Legacy. She is an amazing mom everyday on her mission to spread awareness about anti-bullying and internet safety. So, on behalf of all of us daughter, thank you Mom.