This was one of my favourite interviews that I did for my book. This is true in equal parts because of the people and the message: Love is louder than hate. 
I could not be more excited about the reason I am sharing this excerpt from my book today. In just a few days Amanda's book, Love Lives Here, published by Penguin Randomhouse, will be available wherever and however you buy books – including an audiobook read by Amanda herself. 
Here, I give you a glimpse into the powerful story of a family that embodies what it means to love without limits and a family who are an example to others who need to know what that looks like and how very important it is.
Then, go buy her book for yourself and anyone in your life who needs it.
---
ORIGINALLY PUBLISHED IN MOMENTUS: SMALL ACTS, BIG CHANGE, NOVEMBER 2017
Amanda, Zoe, and Alexis Knox are courageous and compassionate women who love and support each other unconditionally. They have emerged as strong voices and advocates for LGBTQ+ rights. Amanda is a wife, mom, and award-winning blogger. Her blog, Maven of Mayhem, is open, honest, and raw and, that's where I first came to know her and her family.
Let me tell you what Amanda has been writing about lately. Her daughter, Alexis, came out as a transgender girl in 2014. It was an amazing story of bravery, love, and acceptance. In a March 2016 blog post, Amanda revealed another life-transforming happening in her family, sharing that her husband of 19 years came out to her as a transgender woman, Zoe. Zoe was inspired by Alexis's courage (and the acceptance that followed) to be her true self. Today, Amanda and her wife, Zoe, their daughter Alexis and their two sons are happier than ever. The Knoxes may sound like a complicated family; but they're not. They love and support each other like any other family. They also educate others about LGBTQ+ rights and speak out about transgender issues.
I interviewed Amanda, Zoe, and Alexis together. I'm so honoured they shared their story with me. Alexis (who's now 14) told me that before she came out as a transgender girl, she was depressed and anxious all the time.
"I didn't even know why for the longest time. Then, when I was 11, we were shopping for Pink Shirt Day and there was nothing pink in the boys' section, and we were talking about how gender roles shouldn't play a part in things and how everyone should be free to be who they are. I guess that really tipped the bucket over and I sent an email to [Amanda and Zoe] and that was my coming out. I said, 'All I want is to be a girl more than anything else in the world' and here I am."
It must have taken a lot of courage to write that email. Alexis told me she had read horror stories online of families rejecting their transgender children and throwing them out of the house.
"I thought I might be way worse off trying to be myself than being this boy everyone assumed I was. I was really nervous to come out, but when I did it was great because I felt loved and welcomed and everything was wonderful."
As a family, they decided to share Alexis' story on Amanda's blog. When I asked Amanda why, she told me she wanted to write about their experience because there weren't many stories online of parents accepting their transgender children.
"I thought, 'We need more stories of families leading with love and not with fear or bigotry, or misunderstanding.' Our life isn't perfect. It's messy, and it's very imperfect. I couldn't imagine this any other way, though, because when I started researching transgender issues, I looked at the statistics and they were terrifying. Sky high suicide rates and bullying rates and assaults and murders, and I thought, 'This is not the world I want my child to grow up in.'"
Amanda felt like she had two options: sit back, hide, and hope the world got better or try to make the world better by sharing their story. It wasn't really a choice for her. Amanda said there's a lot of negativity online, but the positive people far outnumber the negative. Love is louder than hate.
"There are so many people who want to learn. We have met both online and offline now five or six people and families who have made the decision to come out after reading my blog."
"We need more stories of families leading with love and not with fear or bigotry, or misunderstanding."
Zoe explained that seeing Alexis become happier and grow into the young woman she's become made it impossible for her to keep living a lie. She knew she was a girl since she was about seven years-old.
"I just sure didn't look like one. I got bullied a lot so I quickly knew not to express that and to hide it. I hid that my whole life because it wasn't socially acceptable. I stuffed it in the closet and left it there for 20 years, which was really difficult. I shut down my emotions to get through the pain, but then, of course, you can't feel the joy or the happiness."
In 2015 Zoe came out to Amanda and their family as a transgender woman. Amanda wrote that she felt many things: betrayed, hurt, devastated, angry, and scared. She wasn't sure if they would get through it, but they did, and they are stronger and happier than ever.
"In some ways, we are a normal, typical family. We're still two parents and three kids. We have a house in the suburbs, the kids go to school, we watch a lot of Netflix, and the house is really messy. We stand out in some ways, but we blend in in others."
I asked Amanda what we can do if we hear friends, family, or classmates say negative things about transgender people. Amanda said to speak up.
"You and I are both strong allies and we're informed. If you're at a party, school, etc., and the transphobic comments come out—because as far as they know, there are no transgender people around and they're going to speak their minds—that's where we get to infiltrate and correct. That's where we say, 'Do you know any transgender people? Have you ever talked to any transgender people?' It's really great to have opinions on things, but it's really important to have informed opinions."
Alexis said it's important to start conversations in your community, your group of friends, and your family.
"Tell people these issues matter and you should care about them and we need to change things. Just a 'Hey, this matters in the workplace." could mean that another transgender person comes out, another gay person is accepted, another person can live their life happy."
Didn't I tell you the Knoxes were an amazing family? I'm in awe of how open they are in sharing their deeply personal story. They embody what it means to be accepting and brave, and stand up for what's right.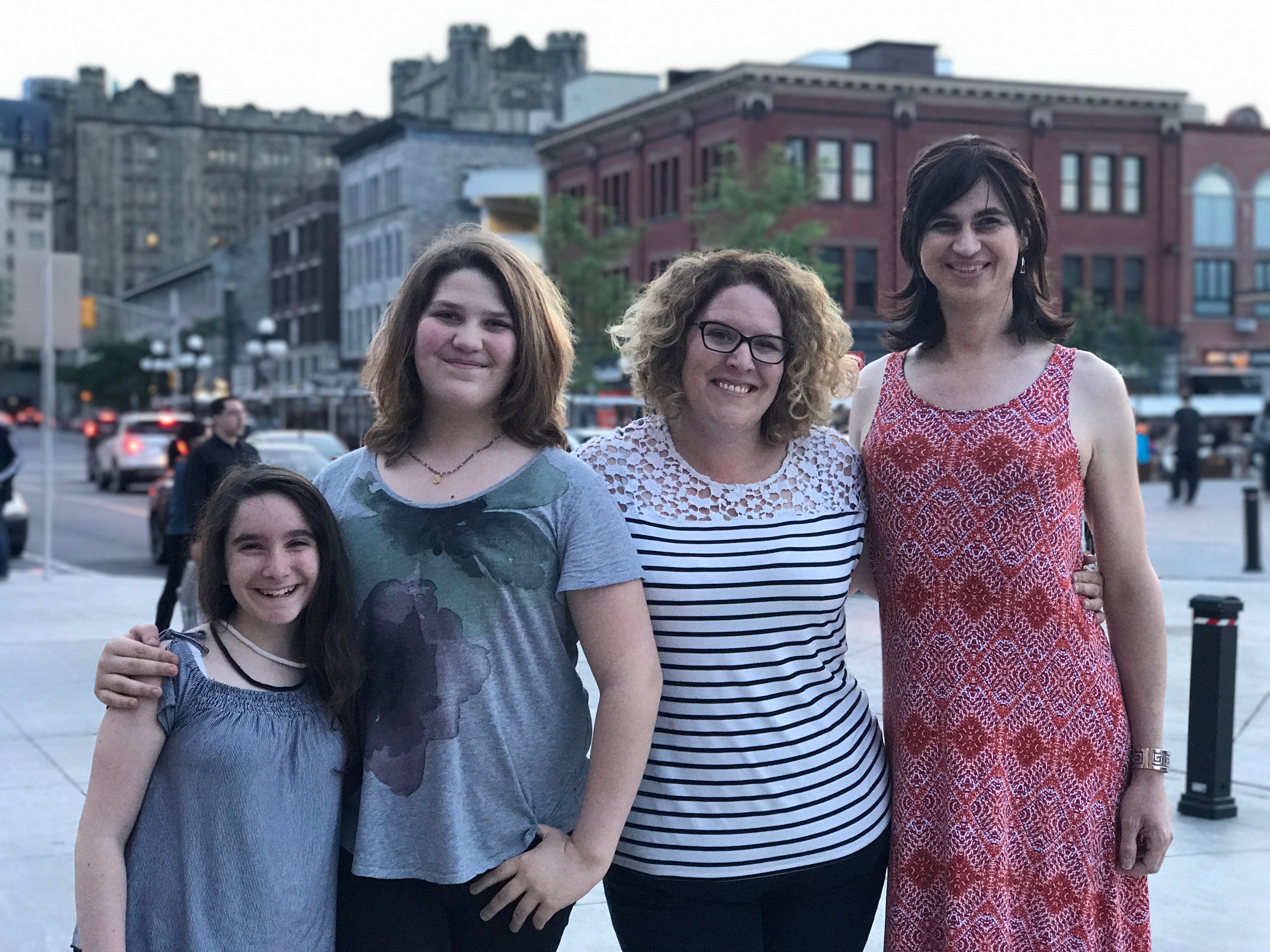 ---
Each of the 19 interviews in my book is followed by a personal reflection based on our conversation. My reflection, Support, Acceptance and Inclusivity – lessons learned from Amanda Jette Knox, is the next post on my blog. Click here to read it.