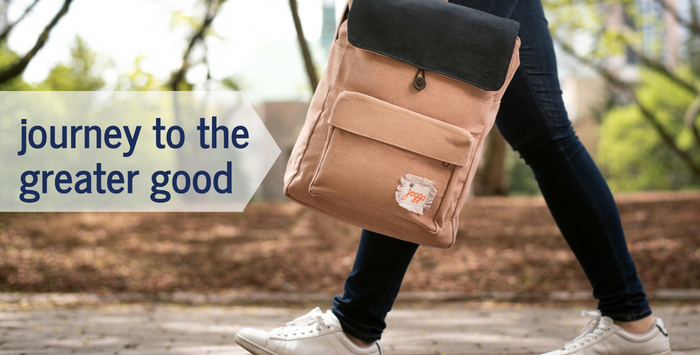 IIIIssue + Gift = Change. This formula is part of every change-maker's journey, though not necessarily in that order. Some people are called to action through their passion for an issue or cause, while others recognize that they have skills and talents to contribute and search for an issue or cause to dedicate them to. No matter how you get to change, you need discover both your issue and your gift.
Mohammed Al Lawati created a brand named for his change, JOGGO, Journey to the Greater Good. JOGGO is a line of backpacks that support refugee education. I sat down to talk with him from his home in Toronto about JOGGO and his own personal journey to the greater good.
It was nearing the end of 2015 when Mohammed, father of 2 girls ages 7 and 4, couldn't shake the feeling that he wanted to have an impact on the world. "I've had a very successful career, I've been doing what I love, but there came a point where I felt, okay, this is now enough, I need to do more." He considered going back to school to study International Development, but after further thought, he realized that he could use his experience and success that he had gained through his career in marketing and re-direct his efforts into something that was grounded in social good. So, for Mohammed, the formula is Gift + Issue = Change.
His search for the issue to put his passion into lead him to refugee education. It really spoke to him and the more he researched the more he came to understand that to children in refugee camps around the world, education, can be what gives a sense of normalcy and also hope and preparedness for the future. 
According to the UN Refugee Agency, more than 59.5 million people are forcibly displaced from their homes due to conflict, violence, and war – this is an astounding increase of 22 million in just 10 years. More disturbing is that more than half of the world's refugees are children.
So, with his gift and issue identified, he set out to figure out how he was going to create his change and where his journey to the greater good would take him. He decided to launch a brand that would support refugee education through partnerships with organizations like Care Canada, who operates on the ground in different refugee camps around the world. For every purchase of a Joggo bag, 10% of the proceeds are donated to refugee education initiatives through CARE Canada.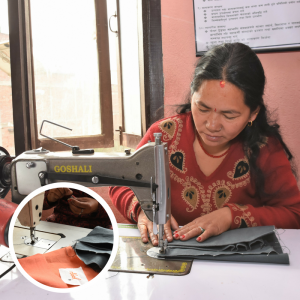 In developing his product, another layer was added. I have learned that this is often the case for most change-makers. "I also wanted to make sure that while helping refugee education on one end," he explained, "I don't want to take advantage of anyone else so I only partner with suppliers that are accredited and audited by Fair Trade." JOGGO bags are made in Nepal by women's co-op facility. So this gives me the confidence knowing that I am also  helping add equitable employment for my producers in Nepal. I also want to highlight that the materials used to make JOGGO bags are sustainable to minimize our impact on the planet.
So today JOGGO has two main products: backpacks and messenger bags. Mohammed's goal for the brand is for it to become lifestyle brand – targeting a specific segment –  activists, change-makers, entrepreneurs who want to drive change through everything they do in their life. "JOGGO bags are opportunity to drive social change through purchase power", he says. This idea really resonates with me because as consumers we all have the opportunity to make a difference with every purchase we make. Sometimes our purchases minimize impact such as buying products that are eco-friendly, locally produced or ethically made. Other times our purchases maximize our impact such as when we buy products from companies that have giving back built into their business. I'm here for all of it.
I asked Mohammed what the greater good means to him.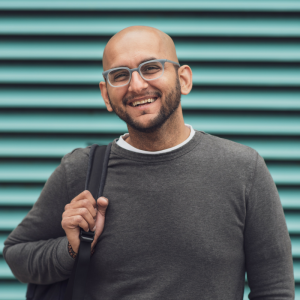 "How I see the greater good for the community is that everyone should be working towards a specific purpose that impacts the society – not only individuals, because businesses have to play a key role in this now as well" He went on to say that he is hopeful, "because there are a lot of businesses that are coming up and realizing that the world is changing, we cannot focus on our selfish needs anymore, we need to work towards the greater good."
And there it is – the journey to the greater good is something that we can all embark on as individuals, but we can do more good when we do it together.
Ready to join the Journey to the Greater Good? Mohammed has generously given me a coupon code for 20% off your purchase of a JOGGO bag. Enter "Hannah" at the checkout and it's yours.