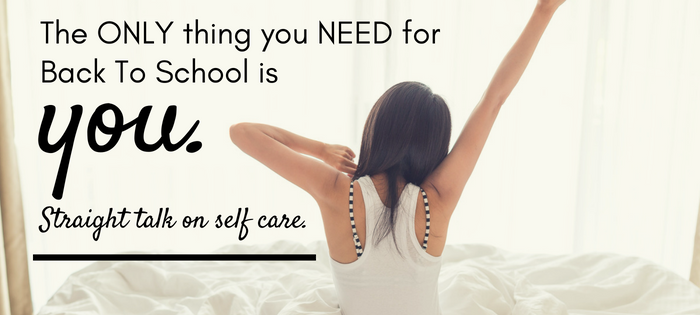 Summer is almost over and that means school is starting up again. SOON. Whether you're going into Grade 6, Grade 12 or university, school can bring on stress and anxiety for students as the school work piles up. I'm going into Grade 10 and something that I am making a priority this year is self care – taking the time (making the time) to take care of me. Maintaining a positive and optimistic mindset has always been important to me and I am realizing that the only way to do that is to take care of myself. We all need to do that. And then do it some more. Throughout the year you want to be the best student you can be. The best friend you can be. The best leader you can be…the best you you can be. You can only do this when you are at your best, so pay attention to what you need – your body, your mind, your soul. 
Back to School blog posts have been a tradition for me, but this one is different. Rather than talking about what you need to buy to get ready to head into the new school year, let's talk about what you need to do for yourself. Self care is whatever makes you feel good. It's what makes you feel relaxed, joyful and ready to take it on (whatever 'it' is). As my friends explain, that can be anything from dancing to meditating. Here's how they do self care.
Sophie Gray, mental health advocate, founder of DiveThru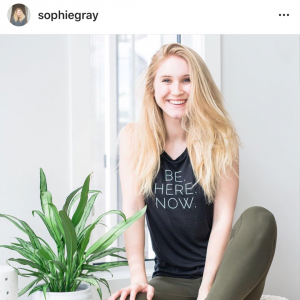 I've been a big fan of Sophie through her Instagram, @sophiegray, and her blog, Way of Gray. I've even used one of her images in a keynote I gave last year about mental health. She's about to launch a very cool new app, DiveThru, aimed at living a more connected life. She is on her own journey of self-acceptance and wants you to do the same – for you. Sophie is a big believer in self-care and journalling is how she clears her head and grounds herself. "I do it every morning and night without fail. It's the way I can "plug into myself" each day."
Taylor Richardson, activist, future astronaut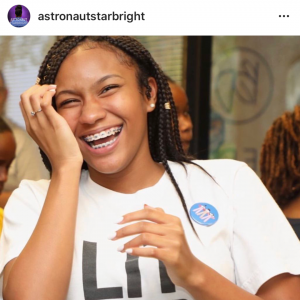 Taylor is starting Grade 9 and I have no doubt she is going to go into the year with confidence. Taylor is part of the  STEAM Squad – a group of some of the top Science Tech Engineer Arts Math teenage girls in the world, working on spreading their joy of STEAM and each other. What keeps her grounded is being a teenager and dancing her way through any stress that comes her way. Taylor says "I love dancing in my room with friends." I love something else Taylor said: "I take time for me and sometimes that means alone time or hanging with my close friends to keep me grounded." Being around the people you love can help you be your best you.
Nadya Okamoto, Founder, The Period Movement, Author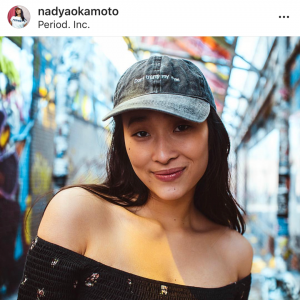 Nadya is someone that loves what she does and hustles everyday to be the kind of business woman she wants to be. She's taking some time out of her studies  – at Harvard – to grow her movement and is about to release her first book this fall, Period: The Menstrual Movement. Her mission is to not only provide menstrual products for those in need locally and globally, but to make the topic of periods something that's ok to talk about. So how does this 20 year-old powerhouse be successful while taking care of herself? "I go the gym EVERYDAY. No excuses."
Eli Brown, founder of Shine The Light On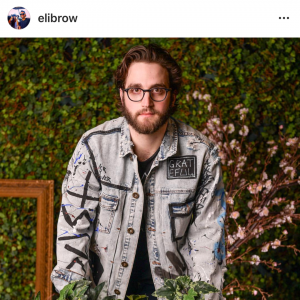 I'm excited to be a Brand Ambassador for Shine The Light On, a clothing company designed to raise awareness while fighting the stigma surrounding mental health issues impacting youth. STLO Founder, Eli, himself experienced depression and attempted suicide, shows that there is always hope and that it is ok not to be ok. To work through his own self care, he works out, does yoga meditates and talks "with others whenever an issue or problem comes up."
Kayley Reed, host of Self Care Sunday on iTunes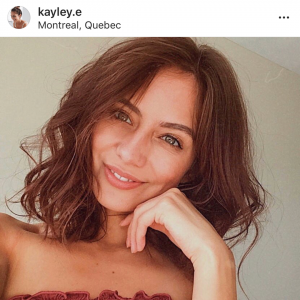 For mental health advocate Kayley Reed, one of her main forms of self care is learning and having her mind working. The tool for her are podcasts. "Podcasts reset, and ground me. So I have my favourite podcasts that I listen to every day while walking to the cafe, doing errands (or between classes!)." Some podcasts that Kayley listens to include: Girlboss Radio, Goal Digger Podcast, The Strategy Hour and more. You can catch Kayley's own podcast (that I love), Self Care Sunday. Kayley also says that "nothing important happens after 1 am. Sleep is precious." So true.
Spencer West, Me to WE Motivational Speaker, Youtube personality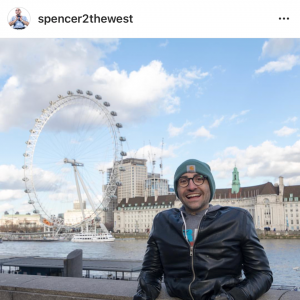 Spencer is so many things to me – a friend, a mentor and a tour-buddy. There are few people I know that spend as much time on the road as a motivational speaker, as Spencer. When he gets on stage he needs to feel energetic and relaxed at the same time – not easy. Since he spends so much time traveling, taking the time and space to focus on himself is really important and it has to be something that he can do wherever in the world her finds himself. "Lately I've been taking at least an hour every morning just for myself, whether that's chillin and doing nothing, listening to a podcast or meditating"
Me 🙂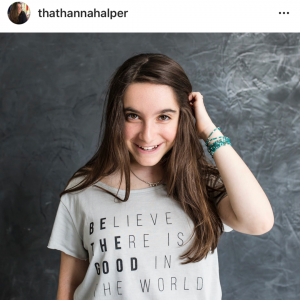 I love the work that I do and I'm always looking for ways to further my journey. I'm also a full-time high school student and that is important to me too. If you think that I'm a busy person, you're right. And if you imagine that it's sometimes stressful to balance it all, you're right again. When I think of my own self care, it often is me sitting on the couch with my dogs and a (guilt-free) bag of chips with a side of dip and Netflix. I also love  hanging out with my friends. Spending time with the positive people I love fuels my energy and makes me happy. When the weather is bright and sunny, I love the 30-minute walk to school because it helps clear my head and get ready for the day. Lastly, something that gets me into a positive and relaxed mindset is music. I love so many different kinds of music, so I put on my playlists and just listen.
As you can see from what my friends and I do, self care comes in so many different forms and methods and there is no right or wrong way to do it. Just like what you choose to take of yourself, self care is a choice. I hope that you choose make it a priority. Choose to do what you love. Choose to do what fulfills you. Choose to do what makes you happy. Choose you.