Today is #WorldWaterDay – a day where we learn and raise our voice about the issue of clean water and how we can help. Anyone that knows me or has kept up with my journey knows that water an issue I am passionate about. It was my first global issue I feel like it's fair to say that learning about clean water and taking action, set me on my path.
It was in the fall and I was in Grade 4. I had just launched my blog over the summer and I was just learning about Free The Children, now called WE. It was the year that WE was focused on the issue of access to clean water in developing communities. I saw the WE Create Change as a way that I could get involved. I approached my Principal and we came up with a plan to launch WE Create Change at an upcoming school assembly. I would give a speech and explain what it was all about.
Here's the thing. I had never done that before.
As I recall, I wasn't really nervous. It never occurred to me to be nervous. I was excited. I just did it in hopes that when I shared what I was learning about lack of access to clean water and that there was something we could do to help, it might inspire others to get involved.
In my speech, I shared what I was learning about clean water. For us, having clean water is something that we don't even think about. If we're thirsty, we turn on the tap. We bathe, we do laundry, we wash our cars and water our gardens. We make dinner and do the dishes and we swim in huge pools of clean water. Then I explained that our peers in other parts of the world aren't so lucky – they don't have clean running water, girls don't get to go to school because they collect water from the river and people get sick and sometimes die, because the water is dirty.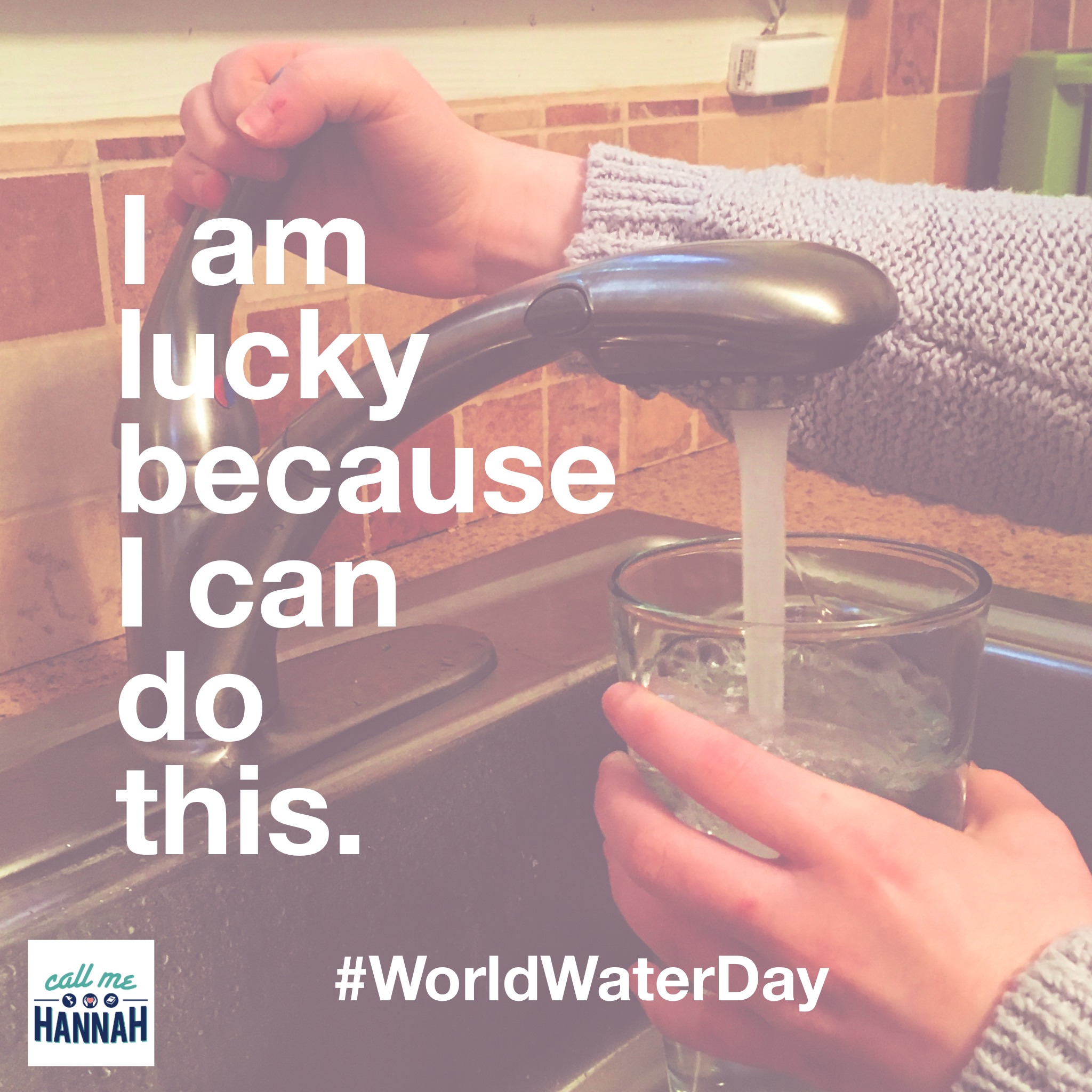 But I reassured them that we could do something to help and all it took was pennies. WE Create Change that year was all about collecting pennies. Every $25 in pennies provided clean water for one person for life. One month later, we collected over 97, 500 pennies and provided clean water for 37 people for life.
I realized then and there, that I could motivate and inspire change that would truly make an impact and it was the first time I saw myself as a leader. I also discovered the power of community. My school could not have reached that number if we didn't all work together. Also, we were one of more than 3000 schools across Canada learning about clean water and participating in WE Create Change. Collectively we impacted 56,000 lives.
Little did I know that learning about clean water and WE Create Change would ignite my spark as an global citizen, activism and public speaking as a way of motivating.
My passion for access to clean water has remained issue that I have been passionate about throughout my journey. I recently travelled to Kenya saw for myself both how urgent clean water was and the impact of those pennies.
I spent an afternoon with Mama Jane and I did the water walk with her and her daughter. We walked from her home to the Mara River with our empty Jerry Cans that we filled and walked back to her home carrying the water on our head. This is a walk that Mamas and daughters did several times a day to bring water to their homes for cooking, cleaning, bathing and for their animals. This very walk was one of the reasons that girls did not go to school.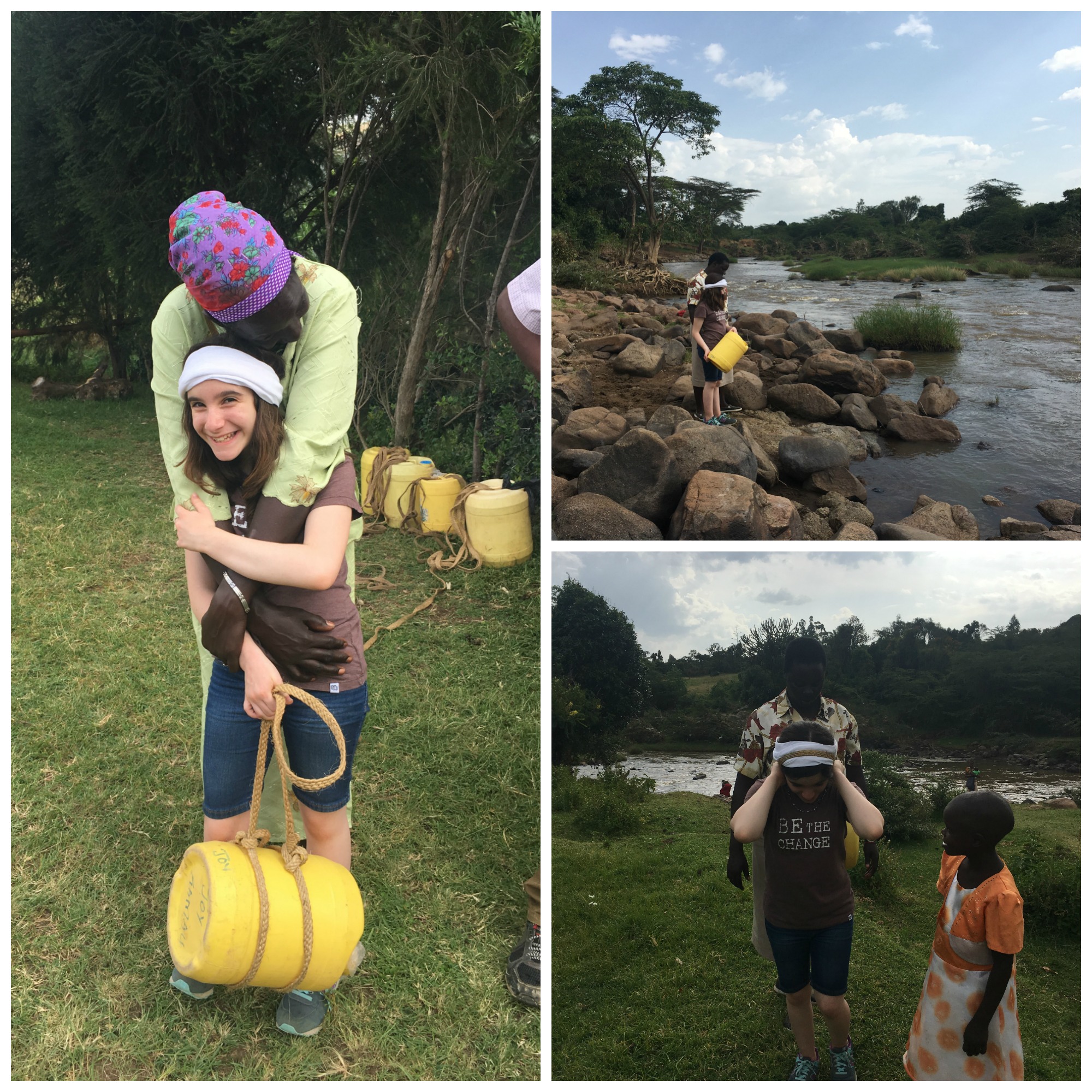 After our walk, Mama Jane took me to the well that was near her home. We drew fresh, clean water from the wells. One of the wells that my classmates and I collected all those pennies for. It was a full circle moment for me and one that I will never forget.
From that first WE Create Change campaign for clean water, I also learned that you can tackle the biggest issues in the most tangible ways by taking small steps.
So, back to the present. Today is World Water Day and there are over 663 million people in the world living without access to clean water, so we still need to act.
Here are 5 simple things you can do right now and forever to help make access to clean water a reality globally, conserve water locally and add your drop in the bucket, ripple in the wave of change or whatever water metaphor is your favourite.
Purchase a Rafiki from Me to WE
ME to WE has a special collection of Water Rafikis. Each purchase of a made by a Mama in Kenya Water rafiki, provides 1 year of clean water. Not only are they beautiful, but they are powerful – when you wear a rafiki, you have the power to raise awareness. When someone asks what the bracelet is, you can explain what it represents and the impact that it makes. You can make an impact right now and buy a rafiki here.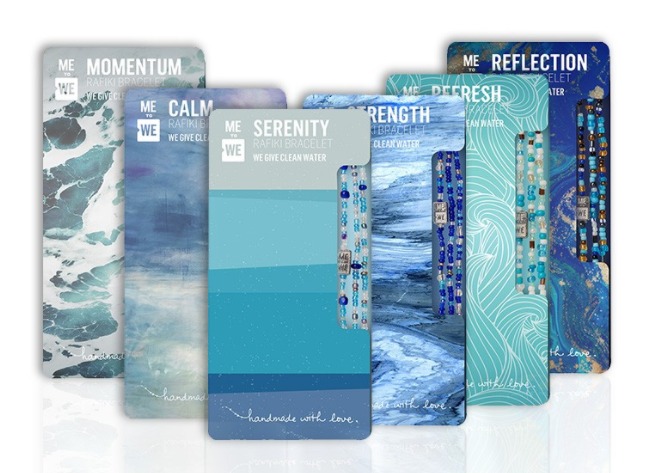 Know your facts
This is something so important. You can't take action or even care about an issue until you know the facts and you're informed about it. Today is a great day to get informed – follow the #WorldWaterDay hashtag on social media and you'll learn facts, hear stories and learn about the many ways that you can take action.
Conserve water!
Globally, over 80% of the wastewater generated by society flows back into the ecosystem without being treated or reused. Conserving water is such an important and very tangible thing that all of us can do to help with this issue. There are many ways to do this – you know them – take shorter showers, turn off the running water when you're brushing your teeth, do full loads of laundry (not partial ones). But another really cool way is using a rain barrel. It says it all in the name – rain barrels collect rainwater so that you can reuse it for soil, flowers and your garden. Plus, when you're using the rain barrel, you're reducing the amount of water from the tap you use, helping not only the environment, but your water bill too. Check out rainbarrel.ca – you can buy one from them or do a fundraiser and sell rain barrels to your community and raise money for a cause that you care about. Win-Win!
Be Conscious about your everyday choices
Believe it or not, but water is in everything. Not just in food, but our clothes. Your average cotton t-shirt can take 2, 700 litres of water to make a single shirt. How crazy is that? Next time you're shopping, simply be aware of the "virtual" water that is in our everyday items and materials the clothes are made of. Did you know that when you're washing clothes, by using hot water, you're wasting water and energy? Rather than using hot water, you could use warm or cold water and it has the SAME effect. More info about this here from the WWF.
Buy the Me to WE Brita Water Bottle
I'm a huge advocate of all things reusable and water bottles is a big one. This new water bottle from Brita though, is awesome and has multiple impacts at the same time. Each purchase of a limited ME to WE Brita statement bottle, does exactly what the statement on the bottle says – "This bottle gave one year of clean water." It has the Track Your Impact code so that you can see where you are making a difference. The bottle has a special water filtration system built right in which means that you are getting the cleanest water from the tap, through the filter and into your body. Just one Brita Bottle filter can replace up to 300 plastic water bottles. You can purchase these at Walmart, Real Canadian Superstore, Real Atlantic Superstore, Loblaws and Zehrs stores across Canada.