WE Day Toronto is only days away and I am so excited to be part of it! It's been a while since I've been on the stage at WE Day and I am so proud to be on it again.
I LOVE WE Day for the energy, motivation and inspiration that fills every stadium. The really cool thing is that you can't buy a ticket to WE Day, you earn it through service – local and global. I am so passionate about this event because it shows youth not only that they are never too young to make a difference, but that they're not alone in it. Someone may be the only person in their class doing what they're doing, but at WE Day, every single person in that stadium is someone with the same interests changing the world. When I went to my first WE Day in 2012, I was so motivated by all of the youth there because I hadn't met anybody that had any of the same passions as me, and seeing thousands of young people with the same passion with an unbelievable drive for change was really impacting. WE Day is all about celebrating the students and teachers that have worked hard over the year to do good. There are speakers and performers that reward them, but also talk to them about even more ways they can be changemakers. And WE are all there in the stadiums across the world because 21 years ago, one boy read a newspaper article and together with his brother, started an organization in his living room. Those brothers are Craig and Marc Kielburger. Since then, the WE movement has built over 700 schools, donated over $16,000,000 in medical supplies, provided over 1,ooo,ooo with clean drinking water and so much more.
What I have come to love the most about WE Day is this: it's a celebration of everything that WE do to make the world a better place. Whether that means creating change in your neighbourhood or community, or for global issues like access to clean water or education – it's about celebrating what WE have done and what WE will continue to do.
New to WE Day this year is a very special event event and celebration, WE Day Family, that will be taking place on the evening of WE Day. WE Day Family is designed to help bring the power of change into the home—motivating families to raise caring and compassionate children and bond around the causes that matter to them, demonstrating that every family has the power to change the world. Coming from a WE family myself, I can tell you that creating change as a family is incredibly powerful and I could not do what I do without the support, encouragement and participation of my family.
There will be a lot of familiar faces on the WE Day stage in Toronto next week and there are also some new faces as well that you might not know a lot about. Here are just some of the people that I'm really excited about being part of WE Day Toronto. Check out the amazing work they're doing.

Zendaya
Zendaya is awesome. I first knew her from her shows on the  Disney Channel, Shake It Up and KC Undercover and as a singer, but she is also an activist for HIV and AIDS. Zendaya is an ambassador for UNAIDS and Africa Rising. She knows that in order for children to succeed in school, they have to be healthy. For her 18th birthday, she reached out to her fans and followers  on social media and raised enough money to feed 150 schoolchildren in developing communities for a year. She has travelled to South Africa with UNAIDS to promote HIV testing and was deeply impacted by three brothers that she met who lost their parents to AIDS. For her 19th birthday, she again wanted to do something to make a difference. She raised $50,000 for the three brothers to buy a home. I'm a big fan of her and I'm really excited for her to talk about her work with UNAIDS. She has also added her voice to many other women's voices in the entertainment industry about photoshopping to change their bodies in magazines. "I don't just sing, act and dance because I love it. You have to have a purpose, and mine is to connect with the world, to get across messages that are important."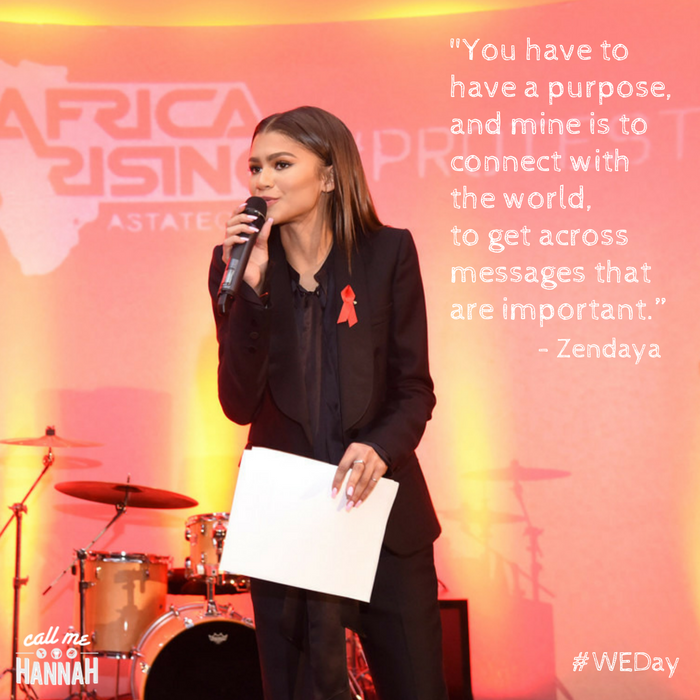 You can find Zendaya online at her website, Instagram and Twitter.
Lilly Singh
Lilly Singh (aka Superwoman) is one of my role models. I love her and her hilarious YouTube videos so much because she is real and has a real connection with her fans and followers #TeamSuper. In December, she used her YouTube platform for social good to launch #GirlLove, a campaign to spread kindness, compassion and confidence with her mission to stop girl on girl hate. It encourages people to send out #GirlLove to other awesome women around then. Lilly is no stranger to WE. She is an ambassador for the WE movement and recently travelled to Kenya with Me to WE and spread girl love all around. In September, Lilly and Me to WE released the Girl Love Rafiki to support education in Kenya. Her fans crushed her initial goal to sell 1,500 bracelets in one day and then surpassed her goals of 6000 and then 10,000. Today, it's almost at 15,000 Girl Love rafikis sold! I am so excited to see her talk about her trip and why #GirlLove is such an important initiative for her. "Be the superheroes this world needs and go out there and save the day!"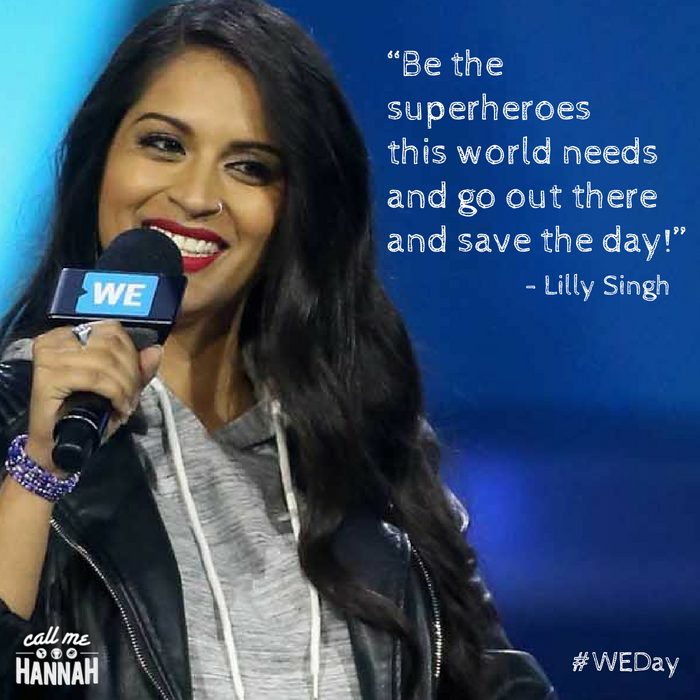 You can find Lilly online at her YouTube, Instagram and Twitter.
Connor Franta
At 23 years old, Connor Franta is a millennial with a mission. He is a hilarious and relatable YouTuber with over 5 million subscribers, a bestselling author (Work In Progress), has designed a clothing line, launched a record label and he is an activist for many causes. For his 22nd birthday, he decided to raise awareness and money to build water wells for The Thirst Project. Just one year ago, he posted his Coming Out video on YouTube after being terrified of what his family might think. But the outcome was amazing and his family is supportive. Connor is an LGBTQ+ activist and encourages people all over the world to be confident and come out to their families. "I just want to set a precedent. Race, gender, religion, sexuality, we are all people. We are all equal."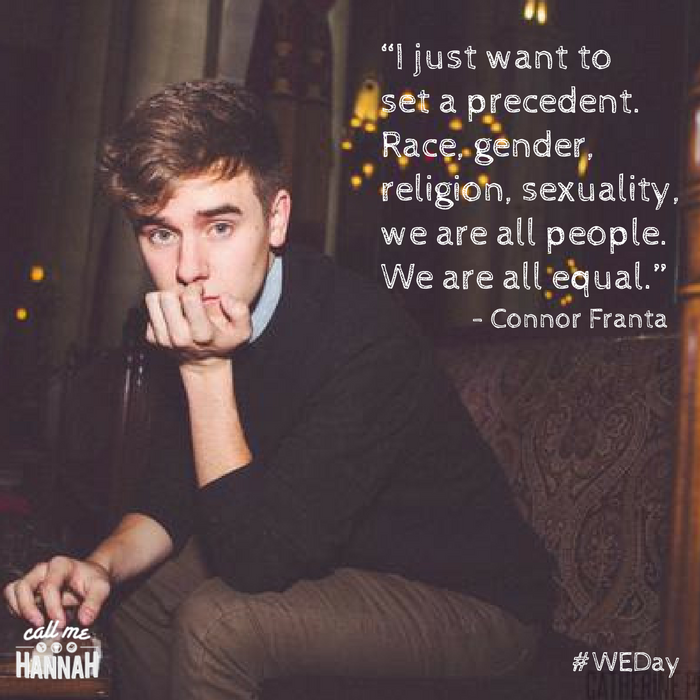 You can find Connor online at his YouTube, Twitter and Instagram.
Winnie Harlow
Winnie is a Canadian model, spokesperson and activist. She was discovered on Instagram and was on America's Next Top Model. Winnie shares an important message for girls, to be yourself and embrace who you are. She was born with the skin condition vitiligo, and has shared that she was often bullied as a young girl. In 2014, she gave a TEDx talk, titled "My story is painted on  my body" where she shares her personal story. But now, she is using this to help girls with low self-esteem to show people that they can achieve their dreams. Winnie also recently travelled to Kenya with Me to WE and Lilly. She says, "I don't think it's good to focus on being celebrated, but to celebrate yourself."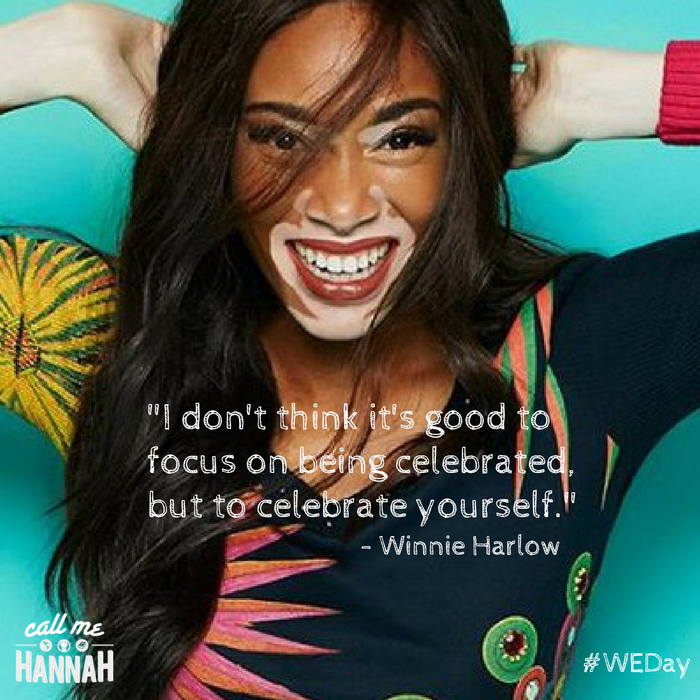 You can find Winnie online at her website, Twitter and Instagram.
Penny Oleksiak
Penny recently came back from Rio winning four medals at the Olympics for swimming, setting a Canadian record. In 2015, she brought home six medals from the FINA World Junior Championships. And the best part? She's only 16. Penny learned to swim when she was 9-years-old because she liked swimming in the backyard with her friends. Who knew that the pool in her backyard would lead her to a Olympic dreams in Rio?  She shows that you have to work hard for your dreams and what can happen when you set your mind to something.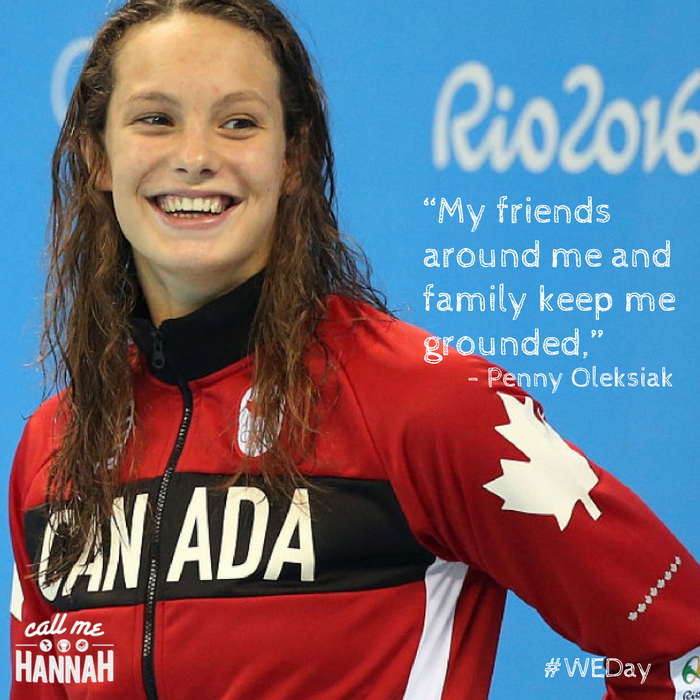 You can find Penny online at her Twitter and Instagram.
Bailee Madison
Not only is 16 year-old Bailee a talented actor on Good Witch and The Fosters, but she is also busy encouraging youth in to go to college. She is an ambassador and stands up with Michelle Obama for her campaign, Better Make Room, provides tools and resources and sets a path to help students go to college and start a career. She is also a spokesperson for Starlight Children's Foundation's campaign, Give Actually, which raises awareness about the power of giving. "Popular to me is love and being kind to one another."
You can find Bailee online on her Twitter and Instagram.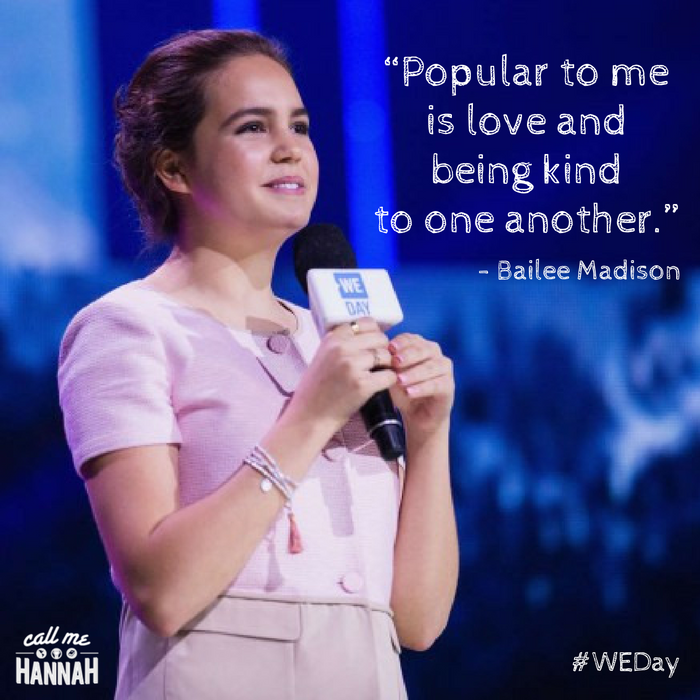 Check out the whole WE Day Toronto line up below. I've included their Twitter handles so that you can find and follow them. If you're going to be there, I know how excited you are to celebrate with 20,000 other young people and WE can't wait to welcome you. You can follow live updates throughout WE Day by following the hashtag #WEDay, me, @ThatHannahAlper on Twitter and Instagram, Craig Kielburger and, of course, WEDay on Twitter and Instagram.
WE Day Toronto will be taped for a special broadcast premiering Monday, November 28, 2016 at 11 p.m. ET on MTV and Much. The special encores the following day at 8 p.m. ET on MTV, and Saturday, December 10, 2016 at 7 p.m. ET on CTV.
Full lineup of WE Day Toronto Speakers and Performers:
Paula Abdul (@PaulaAbdul) – American singer-songwriter, dancer, choreographer, actress and television personality
Hani Al Moulia – Photographer, teacher and actor
Hannah Alper (@ThatHannahAlper) – Blogger, ME to WE motivational speaker and WE Ambassador
Katie Armstrong (@sickkids) – SickKids Ambassador
Bishop Marrocco Soccer Team (@bmtmathletics) – TDCAA Champions and community change-makers
Celebrity Marauders – DJ collective including Kardinal Offishall, Cipha Sounds, DJ Starting From Scratch and Dready
Michael "Pinball" Clemons (@theMPCF) – Co-Founder, Michael "Pinball" Clemons Foundation
Jason Derulo (@jasonderulo) – International singer-songwriter
Faith Dickinson – Founder of Cuddles for Cancer
Gord Downie (@GordDownie)- Singer, songwriter, poet, actor
Tyrone Edwards (@mr1LOVETO) – E!/Much host and co-host of WE Day Toronto
Mia Farrow (@MiaFarrow) – Award-winning actress and activist
Connor Franta (@ConnorFranta) – Entrepreneur, author and creator
Ana Golja (@TheAnaGolja) – Cast member from the Emmy-nominated TV series DEGRASSI and singer/songwriter
Chris Hadfield (@Cmdr_Hadfield) – Astronaut, author, professor, musician, first Canadian to walk in space/command a spaceship
Winnie Harlow (@winnieharlow) – International model and activist
Hedley (@Hedleyonline) – Multi-platinum, JUNO and MMVA Award-winning recording group and WE Ambassadors
Craig and Marc Kielburger (@craigkielburger) – International activists and co-founders of WE
Macklemore (@macklemore) – Grammy-award winning hip-hop artist
Bailee Madison (@BaileeMadison) – Actress on The Fosters and Good Witch
Kweku Mandela (@kwekumandela) – Social advocate and filmmaker
Jessica Mayes – Environmental sustainability advocate, co-founder of Pierson School's Social Justice Group and Sustainability Group
Bridgit Mendler (@bridgitmendler) – Singer, songwriter and actress
Machel Montano (@machelmontano) – Soca artist, songwriter, record producer and actor
Ashley Murphy (@AshleyRose_FTC) – ME to WE motivational speaker, WE Ambassador and HIV/AIDS Activist
Penny Oleksiak (@OleksiakPenny) – Canadian high school student, swimmer and four-time Olympic medalist
Lilly Singh (@IISuperwomanII) – Comedian, actress and YouTube entertainer
Jacob Tremblay (@JacobTremblay) – Multi-award winning actor
Liz Trinnear (@liztrinnear) – ETALK Reporter, Much Host and co-host of WE Day Toronto
Margaret Trudeau – Celebrated Canadian, author & mental health advocate
Vishal Vijay (@ItsVishalVijay) – Founder & CEO of EveryChildNow
Jordan Smith (@JordanSmithLive) – Republic Records artist and winner of The Voice
Richard Walters (@TinyRWalters) – Cast member from the Emmy-nominated TV series DEGRASSI and singer/dancer
Spencer West (@spencer2thewest) – ME to WE motivational speaker, WE ambassador and author
Wilson & Jackson – The last Maasai Warriors
Brennan Wong (@_brennanwong) – Founder of Pledges for Change
Zendaya (@zendaya) – UNAIDS Ambassador, singer and actress