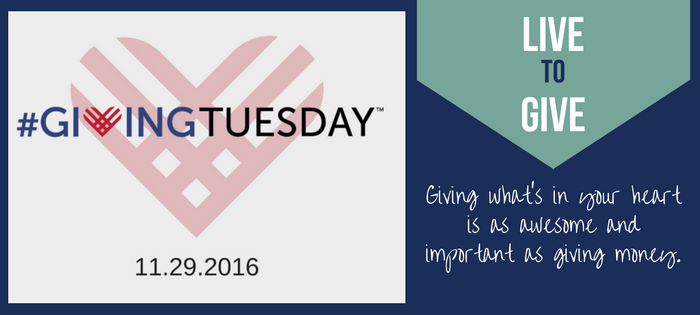 This week was very busy. It was Black Friday followed by Cyber Monday and everyone was purchasing items from their favourite stores. Today it's #GivingTuesday! Today is a day to give everywhere.
There are so many ways to give and today, a lot of people have been donating to their favourite organizations to help build a school, fund a lunch program or any of the many causes they're passionate about. I saw quite a few people sharing that they had made donations to a handful of their favourite charities.
#GivingTuesday is all about raising money and supporting the charities and causes that we care about. It doesn't ask you to give to one specific cause – it asks you to give to your cause. I want to focus on a very specific piece – support and why it matters so much.
Not everyone has money to give on #GivingTuesday, but that doesn't mean that you can't make an impact.
Supporting is not always about money. This is not to say that money isn't important, it is, especially for charities that provide products or services to our communities locally and globally. But giving support isn't always about money and sometimes it's that support that people need the most.
This year has been tough for a lot of people. The media has been showing all the bad things in the world. Now, maybe more than ever, we need all the giving spirt we can find to spread love, positivity and compassion. Giving Tuesday has been called the "Opening to the giving season" when many of us are focussed on gifts for friends and family for the holidays. To me, #GivingTuesday reminds us of the importance of giving what we can.
So, for those of you who don't have the money to give and for those of you who have donated money today, please know this:
Giving what's in your heart is as awesome and important as giving money.
We shouldn't just give for one day. All of the local and global problems won't be eliminated in one day.  We need to act like every day is Giving Tuesday. Be the person that is infectiously kind. Be the person that smiles at others everyday. Be the person that is there for people when they need it. Be the person that will always share what they care about. Be the person that gives gifts of hope, compassion and empathy. Be a change maker. If we do these tangible things enough, it will become a habit, inspiring people to pay it forward and nurture that culture of kindness that we need so much.  We all have something to give and we need to give what we can, when we can and how we can. Together. Give. Live. Give.
Here are 10 things that you can do right now that won't cost you a thing:
Give someone a compliment. Do this now. Then do it again.
Have you had great customer service at a store or restaurant lately? Send an email to their manager telling them about it.
Get in touch with a friend or family member that you haven't talked to in a while. Let them know you're thinking about them.
Tidy up around the house and fill a box of things to donate to a local organization.
Make plans to volunteer at with an organization who's cause you are passionate about.
Learn more about an organization that is making a difference and share with others why their work is important.
Stand up (or with) someone who needs support.
Smile more. Smiling people make other people smile.
Leave a note for a parent, friend or teacher to say thank you.
Read the newspaper, blogs or watch the news to be in touch with what is going on in the world – locally and globally.
And an honorary #11. When you're doing your holiday shopping, look for gifts that make a difference. I did all of my gift shopping at the WE store (www.metowe.com). Different gifts make different impacts and you can choose something they will love that will also make a difference for an issue that they care about –  Education, Water, Food, Health or Opportunity. And if you are looking to make a #GivingTuesday donation today – there is still time and Me to WE is matching your donation 5 times. You can turn $5 into $25 and empower a local youth (leadership training, mentorship and learning materials they need to become a world-changer). You can turn $10 into $50 and provide primary education for a child ($50 value).
I wore this shirt today. I didn't even think about why it mattered until my mom said "Nice shirt. Good choice today Hannah."