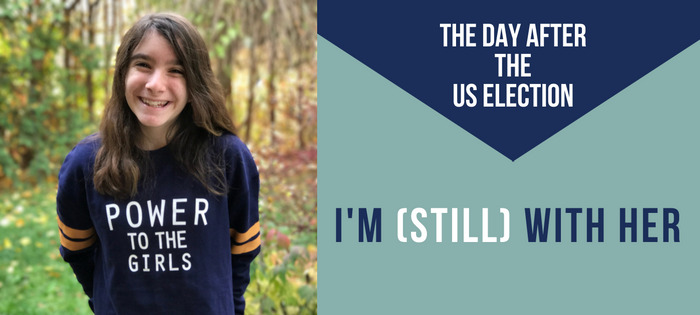 I fell asleep watching the US Election results come in last night. I think I gave in around midnight. My mom was going to wake me up when our strong woman was about to be announced as Madame POTUS so that I could watch her speech live. It was a moment that I was going to remember always. I woke up at 7:30 this morning, as I always do. The second I opened my eyes and realized it was morning, I knew things hadn't gone my way, because I'm With Her.
Over the past 24 hours, I have seen many negative and depressing statements and posts from people on the results of the election. And I understand. I am worried, scared and concerned with how this is going to go. But I need to stay positive and hang onto hope and all the inspiration and togetherness that have come from Hillary Clinton's campaign. We all do. This is what I'm going to keep thinking, doing and sharing today, tomorrow and the day after that.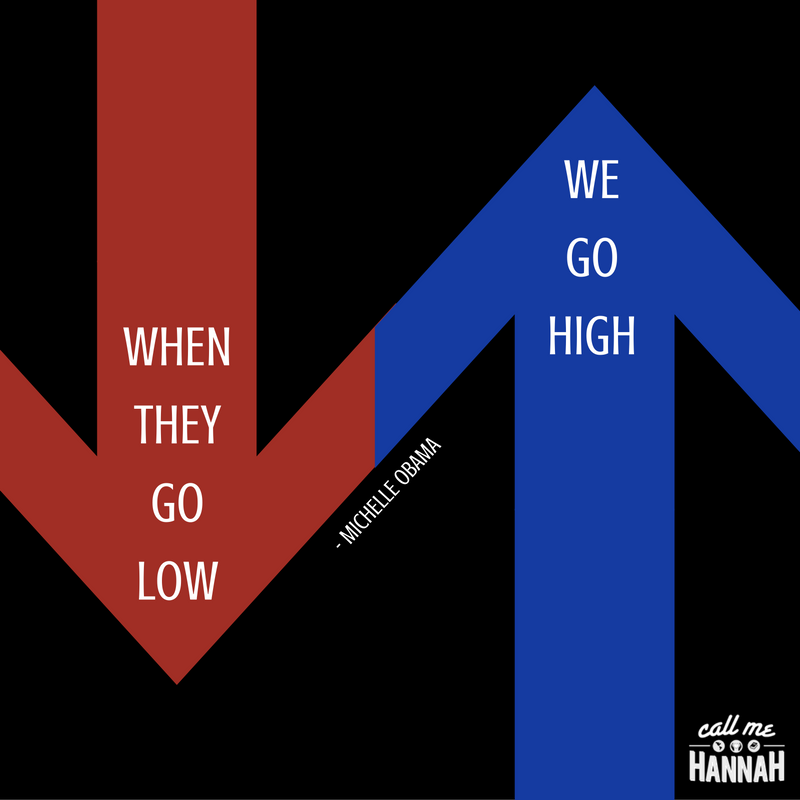 "When they go low, we go high" – Michelle Obama, FLOTUS. This guidance from Michelle Obama is one of the things that I heard throughout Hillary Clinton's campaign that sticks with me. Countering hate with hate, ugly with ugly, rude with rude – doesn't help anyone. It's this idea of countering hate with kindness that will take us in the right direction. It's the reaction that might change actions and minds. If we have learned anything through these last months of this campaign, it's that the world needs more kindness and empathy.
Looking through my stream on Twitter today, I see a lot from parents who do not know how to tell their kids that "a bully has been elected President." They don't want to tell their daughters that a man who has complete and utter disrespect for women has been elected their leader, because they are worried that their self esteem will plummet. Trump has said (and tweeted) some very rude things about Hillary from the start of this election, and actually said that if he was elected President, he would lock her up in jail for good. These things sound and feel like what we talk about when we talk about bullies. So what is there to say? Hillary had so many people who stood up for her and with her. Enough was enough. She had so many allies and so much support who were shocked by his statements about this strong woman, that she gathered millions of people who were telling Trump that this was NOT okay. Media, celebrities, citizens around the world and politicians from both parties were standing behind Hillary and standing up to Trump. This situation goes the same way for anyone that's being bullied – no matter how young or old you are. When you have at least one person standing behind you that will tell the bully that it's not okay and you are not alone. Going high means standing up for people who are being bullied.
The reality of the current situation is that there were a lot of things that were said over the course of the election, on all sides. A lot of really ugly things. But like school and the workplace, we have to work with people we don't like and whose views we don't share. In President Obama's speech today, he explained that Trump will be joining him at the White House tomorrow where there will be briefings and plans set in place for a successful transition. He said that he knows that they have significant differences, but at the end of the day, "we're all on the same team". That goes for everyone, for everything. Another lesson that we move forward with.
I don't know a lot about politics and the US election system, but I do know this: Hillary Clinton won the Popular Vote. Basically, that's the vote of the people. It's the votes of all of the eligible voters. So, the majority of Americans voted Hillary for POTUS and that's a big deal. This does not change the outcome, as the President Elect is determined based on the Electoral Votes and not the Popular votes, but it does matter. This means that the election results were not a landslide or a great victory. Donald Trump won the electoral vote, but the majority of the citizens voted for Hillary Clinton. The bigger learning here – being the most popular, doesn't mean you win. So, Hillary didn't become President and shatter THE glass ceiling she was going for, but in her career and certainly in the last year, she has shattered many. She is still the same strong, amazing role model she was yesterday and we must not forget that.
"We have still have not shattered that highest and hardest glass ceiling. But some day, someone will." —Hillary

— Hillary Clinton (@HillaryClinton) November 9, 2016
Throughout all of her campaigning she instilled into so many young people that they believe in things worth fighting for. She brought people together and it was in that togetherness and community that we know that together, our voices are powerful. No matter race, gender, class, religion, age or ability, WE are heard. There is work to do, not just in the United States, but all around the world. Now more than ever, our essential needs and protecting the most vulnerable among us is urgent and we need to speak out and stand strong together.
This was not just a campaign, it was more than that. It became a movement. Hillary Clinton reached further than just America and it's eligible voters. I, a 13-year-old Canadian girl, am so incredibly proud to say I'm With Her. I'm also grateful for her. So many of us are. And so we do as she asks,
"We are stronger together and will go forward together. And you should never, ever regret fighting for that." —Hillary

— Hillary Clinton (@HillaryClinton) November 9, 2016
Today I watched her make her concession speech. It was hard to watch and it was clear that it was hard for her to make. But there she was – strong, inspiring and full of poise – just as she had been throughout the campaign. In closing, she spoke these words that were directed at me and my peers: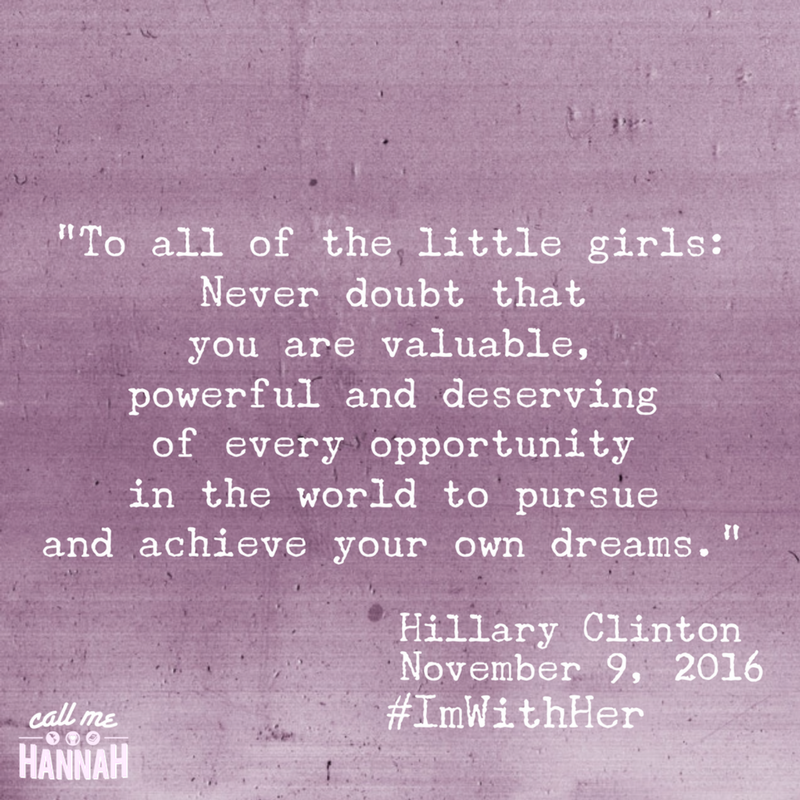 Yesterday, today and tomorrow, I'm With Her.