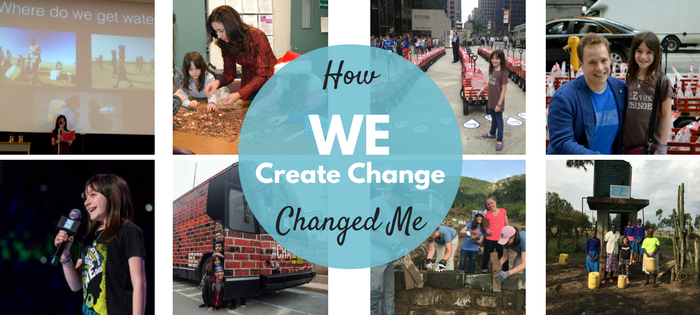 My WE Club at school is getting ready to launch our WE Create Change campaign and it's making me nostalgic. I have so many memories that are tied to WE Create Change and for me it's the campaign that has had the greatest impact – globally, locally and for me personally.
WE Create Change was the very first campaign that I launched at school. I was in Grade 4, and I had just started my blog. I had just been to my first WE Day and I was learning about the challenges my peers in other parts of the world face. It was the year that WE was focused on the issue of access to clean water in developing communities and WE Create Change was a way that I believed I could make a difference.
I talked to my Principal and told her what I wanted to do and she was excited to get started and get the school involved. She even suggested that we get another school in our neighbourhood on board too. We made our plans to launch WE Create Change at our upcoming assembly and I offered to speak. It was the first time I got on stage.
I wrote my speech and shared what I was learning about clean water. For us, having clean water is something that we don't even think about. If we're thirsty, we turn on the tap. We bathe, we do laundry, we make dinner and do the dishes and we swim in huge pools of clean water. Then I explained that our peers in other parts of the world aren't so lucky – they don't have clean running water, girls don't get to go to school because they collect water from the river and people get sick and sometimes die, because the water is dirty.
But we can do something, I said. WE Create Change is about turning our small change into big change. That year, Canada was discontinuing the penny and WE Create Change focused on collecting pennies to raise money to build clean water wells in Kenya and other WE Villages communities. From the stage I asked, what can you buy with $25? A video game. A sweatshirt. Movie tickets. A pizza. Then I told them that for every $25 we collected in pennies, we could provide clean water to one person for life.
Raise your hand if you're ready to collect change.
Clap your hands if you're ready to bring the change.
Cheer really loud if you're ready to create the change.
Stand up if you're ready to share the change.
 They were all on their feet.
It was the first time that I realized that I could motivate my peers and community. It was the first time that I saw myself as a leader. It was the first time that I saw that I could use my voice to make a difference.
We spent the next month collecting pennies and other change to create change and it was amazing. At the end of November, we sorted, counted and bagged it. Between our 2 schools we collected 97,500 pennies – enough to provide 37 with clean water for life. I filled my dad's trunk with our bags full of change and took them to my local RBC branch to make the official deposit. I remember walking into the branch and how excited all of the people were as we brought them all in.
I was so motivated by what we were able to do and I started thinking about what my next action would be. I could not have imagined what was about to happen.
I was invited to participate in the official end of campaign event for WE Create Change at the RBC offices in Toronto. There was a big team there from both Free The Children and RBC, cast members from Degrassi, other students who had been really involved, and Marc Kielburger. We were all there to make the announcement of the final results of WE Create Change. 1,400,000 pennies. Schools and students from all over Canada collected enough money to change lives by providing them with clean water for life. I'll never forget what it felt like to be part of that.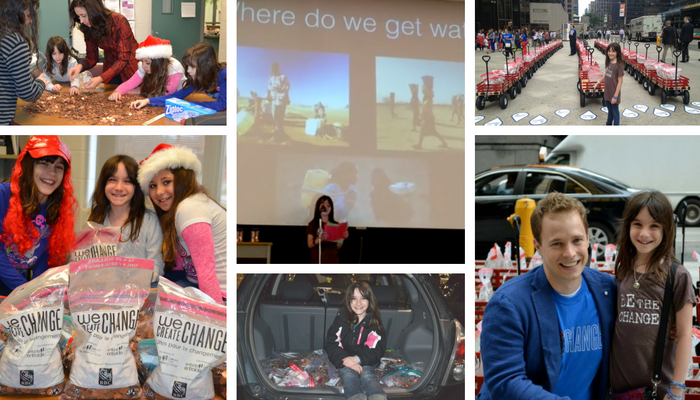 As the event was wrapping up, Marc asked my parents and I to stay behind because he wanted to talk to us. I remember standing there with my parents in the lobby excited that we would have a few minutes to talk to Marc. Like I said, I could not have been prepared for what he was about to say. It went something like this:
Hannah, we're so proud of everything that you have done around WE Create Change and on your blog. We would love you to join us at WE Day this year as a speaker. Take some time and think about it. We would love you to come on the whole WE Day tour with us.
YES. YES. YES.
I spent the following year on tour sharing Malala's story on the WE Day stage across Canada. It was, is, and always will be, the greatest honour I have ever had. I could go on and on about what that year meant to me, but I want to keep focused on WE Create Change.
On the very last WE Day of that year, we were in Halifax at the Celebration Dinner on the night before WE Day when Marc again, asked my parents and I to hang back to talk to us. Again, we thought he was going to thank me for my time with WE Day.   Our conversation that night went something like this:
 Hannah, we're working on something really exciting and we want you to be a part of it. It's the WE Create Change Tour and we're thinking that you could join Spencer West on a tour bus across and travel across Canada to talk to schools and celebrate the difference that they are making raising money through WE Create Change to build schools.
 YES. YES. YES.
I spent the following year exactly as Marc described – 10 weeks on a tour bus with Spencer, Neverest and a team from Free The Children. We spoke at schools in communities from Newfoundland to Vancouver and celebrated the action and commitment to global education. I met teachers and students all over Canada who were making a difference through WE Create Change.
In February, Marc called me with another idea.
 Hannah, our friends at RBC are working on something and they would like you to be a part of it. They would like you to go to Kenya to look at the impact that their cardholders are making with the Free The Children Virtual Visa Debit Card.
 YES. YES. YES.
I went to Kenya in June with my Mom to see first-hand the impacts in action. My time in Kenya was filled with full circle moments that brought me back to WE Create Change. One of the first things that I saw when we arrived in the Maasai Mara was a clean water well and I was overwhelmed with emotion thinking about my friends at school and remember that first WE Create Change campaign. I did the water walk with Mama Jane and Mama Judy and fully understood the impact our efforts made collecting all of those pennies. The day that we were going to go to the build site to lay bricks for a classroom for, Ngulot – the all-boys high school, my Mom and I wore our WE Create Change Tour t-shirts and thought about all of the students we met in our tour across Canada. To see and experience all of this for myself alongside the community members whose lives are changed by our change, is something that will stay with me forever.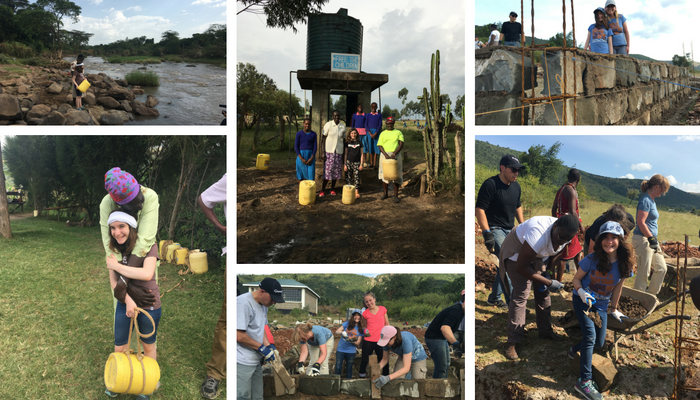 WE Create Change has led to my biggest moments in my journey as a change-maker. But WE Create Change is so special to me for another reason – it has shaped my understanding of what making a difference is all about:
All change counts.
It all adds up.
Little things – whether it's coins or actions – make a big difference when they are collected.
The WE Create Change campaign this year invites you to pick your pillar of impact. – Water, Education, Health, Food or Opportunity. How will you make a difference?
---
In June 2016 I went on a long-anticipated journey to the Maasai Mara in Kenya with Me to WE. I was on a special assignment from RBC Royal Bank to explore the impacts that are being made in each of the WE Villages' 5 Pillars: Education, Water, Food, Health and Opportunity. Like me, RBC is passionate about making a difference and they have been donating a portion of every purchase made using the Free the Children RBC® Virtual Visaǂ Debit Card to support WE Villages initiatives. To date $500,000 has been donated and I can tell you that the impact goes a long way to creating lasting and sustainable change. This blog post is part of a series that I am writing to share how far our change goes – both in distance and in impact.